CINE, AUDIO & VIDEO, TV, COMPUTERS and accessories
PANASONIC DVD RECORDER MODEL DVR 520H-S HARD DRIVE RECORDER. We used this to record over-the-air broadcast TV until standards changed. It has not been used since that change in standards. It worked perfectly up until that time. I am not sure how it may be used today. It is very high quality. We paid $706 for it new in 2005. It will be shipped in the original box. It comes with the original manual. Manuals are readily available on-line in case you want to read about it. It also comes with a working remote. The HDD is loaded with many nature programs, etc. that we recorded off of PBS. You may record over them of course. $300
KING KONG COLLECTIBLE PAPERWEIGHT. 3 sequential frames from the 1933 movie, KING KONG, produced from the archival master negative. Collector's number 07410, showing the iconic scene of King Kong atop a building with an airplane attacking him. On the left side of the film is the optical sound track. $30
CAMBRIDGE SOUNDWORKS AMBIANCE (BY HENRY KLOSS) BOOKSHELF SPEAKERS OR MONITORS. The sound quality is what I would describe as accurate.....as in a monitor. The looks cannot be beat. Because they are solid oak, they can be refinished if the appearance is damaged. I have never been a fan of veneer, so when I learned about these speakers and heard the quality sound, I bougjht a pair. This 2nd pair is superfluous to my needs, although I will put them to use to replace the below listed JBL speakers should the JBL speakers sell. $200
JBL LANSING L77 SPEAKERS. I bought these about 1980 in the condition they are in now based upon their great sound. The foam surrounds were deteriorated then as they are now. They still sound great. I would consider repairing the foam surrounds, but I do not think it would improve the sound. Who would know that the foam surrounds were deteriorated with the speaker grills on.......so it is not even a cosmetic issue. You are welcome to visit and listen to the speakers. $200
DELCO ELECTRONICS 4 OHM 6X9" AUTOMOTIVE SPEAKER or SPEAKERS . The sound quality is acceptable. They came out of a GM vehicle. I am using one in my vehicle, but I am willing to sell both. The difficult work of splicing wires and running the wires through the vehicle has been done. Many other speakers would serve me as well. I bought these on Ebay. The seller was deceptive. He hid the wiring, but implied that the wiring was for these speakers. It was not. The wiring for these speakers was used with a new set of Infinity speakers he installed. The below listed Infinity wiring came with these speakers, but was useless for these speakers. I had to cut away the plastic surround for the speaker terminals and solder wires to the connectors. I have connected the one speaker to my vehicle wiring using wire nuts. I am just using one speaker because I did not have room for 2 speakers. I am not using the speakers in the designated place for speakers in my dash; I would have had to remove the dash and that would have been way too much work. $15 for one speaker, $25 for two speakers.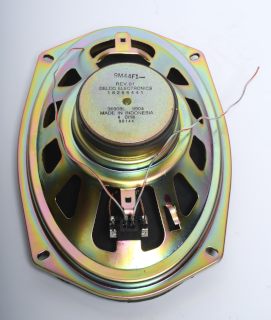 NEW, UNUSED INFINITY WIRING FOR AUTOMOTIME SPEAKERS. You get 2 wiring harnesses, although only one is illustrated. $15 for one, $25 for 2. The Infinity grill is also available for $15 for one, $25 for 2.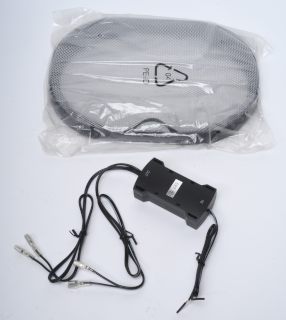 ALTEC LANSING SOUND SYSTEM. Connects to your computer, etc. and 120V AC. The system works some of the time. There is a bad connection in one remote speaker. So only $20. The system is in the original box. Shipping is merely a matter of paying for the cost to ship. You are welcome to pick it up, but, at $20, I will not take time to connect it up and demonstrate.
DIGITAL Power Control 861-D. Plug it into 3 phase and get single phase output. 19" rack mount. $100
Sola 3000W voltage stabilizer, formally listed as "constant voltage transfomer harmonic neutralized, type CVS, U. L. listed power supply 685H," series 82D, input 95-130X175-235X190-260, input amps 34.6X19X17.3, output voltage 120X240, frequency 60 HZ, VA3000, computer grade voltage stabilizer (even higher standards than photo grade), weighs 162#, Ex+, $550. Other smaller capacity voltage stabilizers are listed here: Darkroom Equipment-Timers, Analyzers, Densitometers and more
Arriflex Stop Motion Control Console, Model 150-75, with motor, also catalog #150-75, for the Arriflex 16St or Arriflex 16M 16mm cine cameras, Mint-, $300
Arriflex 110V AC power supply, catalog #339-370, 8 or 12V output, plastic Ammeter cover cracked, otherwise Ex+, $250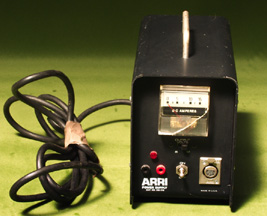 Angenieux 2X wide angle lens attachment,coated, ~65-66mm inside threads at lens rear are designed to screw onto the front of another lens, 111mm OD front element, front cap, sliding barrel for adjustment, Mint-, $200
Bolex 16mm 400 foot film magazine, with film counters for both 400' and 200' reels, with rubber cover for mating area, Ex+, $200
Bolex 16mm side mounted viewfinder, 25-150mm, with slide into position from underneath 10mm auxiliary lens, Ex+, $50, $25 w/o 10mm lens
Bolex 10mm auxiliary lens for VF, Mint, in case, $50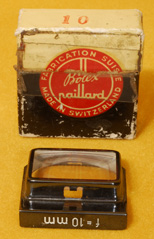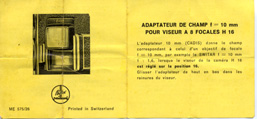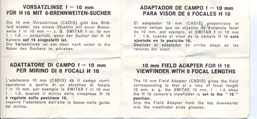 Bolex 16mm extension tubes, C-mount, set of 4, 5mm, 10mm, 20mm and 40mm, Mint, $100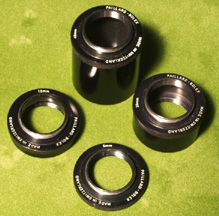 C-mount lens hole cover, screw-in, Ex+, $5
2 Bolex cranks, as illustrated. You see both in the 1st photo. You see a closeup of the one in the 2nd photo. The one is labeled "B". The other is not labeled. Mint, $30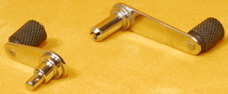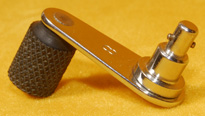 13mm F1.9 Kern-Paillard Yvar normal coated lens for 8mm, Ex+, 35
Kodak 13mm F2.7 Cine Ektanon lens, coated, Ex, $15
36mm F2.5 Elgeet Cine Tel telephoto coated lens for 8mm, Ex+, $25
36mm F1.9 Elgeet Cine Navitar telephoto coated lens, Ex+, $35
Bolex 8mm blank lens plug to cover holes in turret when not in use, Ex+, $10, 2 available
F1.9 Wollensak cine velostigmat, I believe it is a normal focal length for 8mm, Mint-, $25
Kodak adaptor & variable VF for 50mm, 63mm, 102mm, and 152mm lenses, fits above 102mm Kodak lenses, Ex+, $25
16mm sound projector, EIKI Super Slot load II, coated 50mm F1.2 EIKI Super-16 lens, model SL-OML, 250W lamp, with takeup reel, cordless remote control, case, dust cover, Mint-, $250, 2 available
Pair speakers from E-Machine computer, new-in-box, $15
Thinkpad (or other laptop) case. Did you know that the military uses Thinkpads to control a tiny (about 6") plane with video camera? This must be a military case, certainly it's built to take the kind of abuse the military would give it. It's sort of like a briefcase built by Anvil. 7X14X17", 14#, with several compartments and dividers. $100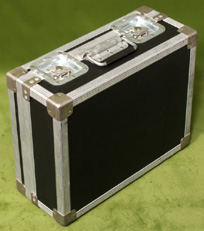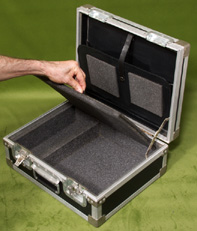 Laptop case, black plastic shell with soft covering, looks presentable for business use, ~18X14.25X5.5", with 2 keys, Ex+, $45
I have a great selection of Tripods, monopods, shoulder braces, rifle stocks, video camera wall mounts, etc. see my TRIPODS web page.
Sony VCR SLV-N80/N70 instruction book and remote control unit, English, $30.
Instruction manual and remote control unit RC-60FR for Phillips audio video stereo receiver FR780, the receiver itself was damaged by lightning and was discarded, Ex+, $15
CINE LIGHTING EQUIPMENT is listed here: Lighting Equipment
---
about glennview, orders, inquiries
---
email to GLENNVIEW
---
return to the table of contents for glennview
---
return to the TABLE OF CONTENTS for GLENNVIEW
---