ANTIQUES, furniture, etc.
SOLID MAHOGANY and SOLID BRASS DESK. Top and side panels are made of 3/4" solid mahogany. Drawer fronts are made from 1.5" solid mahogany. Feet are made from 1" solid mahogany + they are backed up. The drawer handles are made from solid brass. All fits well together. Solid construction. Mahogany of this quality has not been available for many decades. Quality solid mahogany has not been used to build furniture in many decades due to its scarcity and price. This is not just a quality antique, but it is a work of art that is eminently useful. 48" wide, 21" deep, 30.5" high top. Kneehole is 24.5" high and 20.5" wide. Center drawer is 19+" wide and 14" front to back inside dimensions. Side drawers are 9" wide and 16" front to back inside dimensions. Dovetailed drawer construction. This desk was made in the 1st half of the last century; a 1942 date is stamped in the upper left crawer cavity. A remnant of a mahogany manufacturer's association is in the center drawer bottom. The desk has been newly refinished. Stripping off the old finish, prepping and refinishing is no esy task. I figure I put thousands of dollars of time into the job. All things considered, the desk is a bargain in my opinion. The desk is desinged to be placed against the wall. The desk back side is unfinished. Note that the desk is sitting on a dolly in one view. The desk is sitting upon a lifting device in another view--in front of another view. This means that the desk may easily be loaded onto your vehicle. It is located on the ground floor. It is ready to be rolled out to your vehicle for loading. If you think the desk is right for you, I suggest you buy-it-now because I like the desk a lot and if it does not sell soon, I may put it to use and take it off the market. $1500.
CORBIN MORTISE TYPE DOOR LOCK. Extremely well made. It is workinęg properly. It will accept a standard modern cylinder lock. $80.
YALE MORTISE TYPE DOOR LOCK. Extremely well made, but one side plate is broken. For parts. $40.
PALOMINO ROCKING HORSE. This pony rocks, doesn't eat much, needs little grooming, stays forever young. What child wouldn't fall in love with it? It is beautiful decoration even if you do not have children. It would be perfect in the Grandparents home.....for when the grandchildren visit. Quality construction. Leather, cotton and solid wood. No chipboard. No plywood. 38 inches high. 42 inches long. 15 inches wide. $200.
ANTIQUE GASCAN. Vintage gas or oil can. Galvanized steel. Holds several gallons. 12" in diameter. Complete with all caps, handle. Would look good in a garage alongside a vintage vehicle. Would also fit into the decor in a Dixie Kitchen restaurant. Last used for thread cutting oil, which has the viscosity of automobile oil. $20.
BRASS MATCH HOLDER. $20
BAKELITE MATCH HOLDER. $20
2 WHEEL HAND CART. Very heavy duty. Solid rubber tires. Hardwood with steel covering going up the front verticals. Extremely well made. Rolls smoothly. Unbeatable for some things. With feet for laying horizontal. No doubt an antique. The design may be centuries old. How many modern handcarts have you seen trashed? This hand cart is very well balanced. You can carry a lot of weight on it because of that balance. The next time a production of Porgy & Bess is put on in Chicago, I will attempt to contact the property manager and offer it to them as this would look right at home in such a period production. $150.
VINTAGE WOOL SLACKS. L. L. Bean slacks I am told by the older gentleman who sold them to me about 50 years ago. He said they were too good for him to use. Extraordinarily thick wool with extra thick cotton pockets. 32" waist. Inseam measures 29"; due to the style, I think the inseam is more like an effective 30" when I tried them on. Suspender buttons. 4 pockets. Brass zippered fly. 2 pair available. One pair is slightly darker than the other. Appear unused. $75 each
1954 WOOL ARMY BATTLEDRESS TROUSERS. According to the label, 31 to 32" waist, although I would put it more like 30". Inseam measures 30 1/2", although it seemed more like 32" when I tried them on. Suspender buttons. 5 pockets. Labeled "J/L/cpl/Williams Rhine Platoon." Used, but in great condition. $25
GLASS LAMP SHADE. ~3/8" hole in center. I am holding this suspended over a bare bulb. It was probably designed to be used on a ceiling fixture; I have a ceiling fixture--listed below. Could also be used on table or floor lamp. Faceted glass circles. $75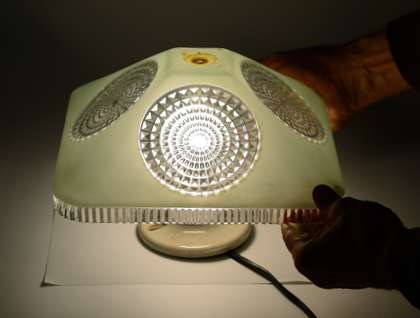 GLASS LAMP SHADE. ~3/8" hole in center. I am holding this suspended over a bare bulb. It was probably designed to be used on a ceiling fixture; I have a ceiling fixture--listed below. Could also be used on table or floor lamp. $50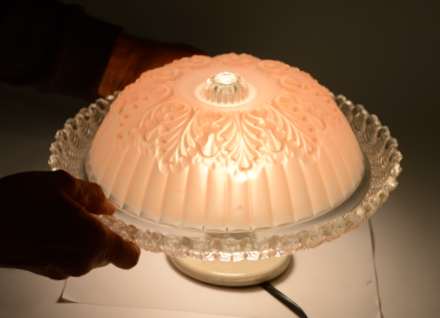 PAPER LAMP SHADES. Pair. 12" square at bottom. 5" square at top. 9" high. Note a little water staining on one shade. $30
CEILING or WALL FIXTURE. Decades ago I converted this to a tabletop nightlight. The 2 position microswitch allows you to turn on one bulb or both. The fixture was unaltered. It can still be used as a ceiling fixture. Originally, it was held onto a ceiling outlet with a retaining nut over a threaded rod or tube through the center hole. The hole where the switch is located was for a pull chain or cord connected to a switch. Bulbs not included. $50
12 YELLOW FILAMENT BULBS. 11W, 120V. Standard screw base. See photo of 2 of these bulbs in the light fixture above. NEW-OLD-STOCK. $36
GOOSENECK DESK LAMP. A classic. $50
TITANTIC SHIP'S PORTHOLE. 22-23" overall outside diameter with a 17-18" opening. Brass or Bronze and thick glass construction. Weighs about 95#. I use the word "titantic" as an adjective. Almost without a doubt it is from a very large ocean liner. This is the largest ship's porthole I have seen. Have you seen one larger? The back side (sea side) is curved to match the curve of the ship's hull--or your van side panel. It was bolted onto the ship's hull with twelve 1/2" diameter bolts. I got no bolts with it. I do have one copper bolt and washer to fit it and will include them. The rubber gasket probably should be replaced for seagoing use. The glass (sea side) is pitted. Now, where are you going to find another one like it? Maybe on THE Titantic. $300
MARIONETTE or PUPPET THEATER, or CABINET for whatever, beautiful figured walnut and walnut burl veneer, rounded corners, looks just like a miniature theater, antique cotton velvet curtain, about 70 years old, very well made, relatively lightweight, overall dimensions 35" wide, 35.5" high, 17" deep, stage opening 23" wide, 20" high, stage depth 15.5", plenty of room above the stage for the puppeteer's hands with access from rear, storage space above the stage with a rear hinged top, velvet feet will not mar and are height adjustable--no wobble, $400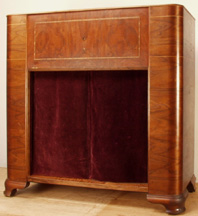 HALL TREE, revolving clothes stand. I bought this at auction. The seller put a sticker on it that said, "J & J Kohn, Austria, ca. 1900." Much of the varnish has worn off of it, especially on the bottom section. The top revolves with just the right amount of resistance. $125.
SCULPTOR'S TABLE, solid oak base, hand wrought hardware, craftsman style construction, splayed legs with cross bracing, mortice and tenon joinery, 27.5" high, 24X24X2" solid maple top, weighs ~80#, top revolves--but not too easily because you want your workpiece to stay put, decades old--from university sculpting laboratory, top is newer, because the top is removable, it may be shipped via UPS. $400. This table is really well built. Sculptors pounded stone on this tabletop; it is designed to support hundreds of pounds. When I got it, the original top was a bunch of oak wood fibers loosely held together because of the pounding and weight it had suffered over the years. The legs, however, are as sturdy as new. I am currently using it in my machine shop. The piece of equipment on it in the 1st photo weighs over 100#; it will support a whole lot more. I now have a 30" diameter maple butcher block tabletop available that you may have in place of the square top. Although, personally, I would prefer the square top with clipped corners--resulting in an 8 sided top to more closely match the base; I'll neatly clip the corners of the square top for you for $50.
OAK COLUMN PARTS. Average diameter about 12". I will use them as picture frames for round image photographs one day, if I do not sell them 1st. #1, $50. #2, $50. #3, $60. set of 3, $100.
DECORATIVE SHELF BRACKETS. The 1st one is ~4X6". The 2nd one is ~6X8". $15 each
NCR CASH DRAWER, brass and oak, with key, lock works, drawer slides smoothly, oak top hinged compartment with small storage space with hinged masonite cover, 3/4" plywood base with solid oak perimeter, solid, heavy, clean, $200
WALNUT PLANT STAND. 2 feet tall, flowerpot and plant not included. $100.

MAHOGANY VASEwith custom made watertight plastic insert should you want to put some fresh cut flowers in it. $200.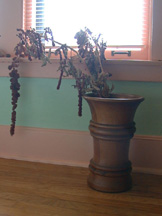 York 5# cast iron weight. As simple as you can get. One solid piece of cast iron. Ergonomic. $50.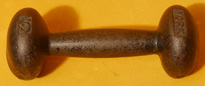 SILVER CIGARETTE CASE, back side plain, $15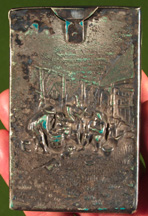 SILVER CIGARETTE LIGHTERS, work, $20 for pair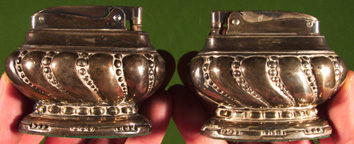 SILVER PICTURE FRAME with "LLH" intitials, 8X10" size, $20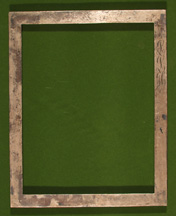 WOOD FAUCET OR SPIGOT, about 8.5" long with lever operated handle, marked "Redlich's Warranted Faucets, fully saturated, Redlich manufacturing Co., Chicago," and stamped with #2, great condition, no wear on the tapered shaft, no odor, may never have been used, tapered shaft that goes into keg tapers from .912 to 1.38", Mint, $40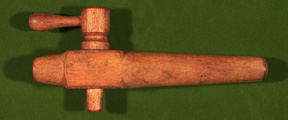 OAK COMMODE WATER TANK, copper waterproof lining, designed to be mounted on the wall above the commode--connected by a pipe (pipe not included) and activated by a pull chain (chain not included). Most of the stopper and flusher hardware is not present; modern components will do as they will not be seen. Designed to hang flush on the wall with a French cleat--included. Would make a great plant container or use as originally intended. $200
Sausage making machine, 6&8 quart size, with large and small pressure plates, interior perforated cylindrical liner, manual crank, with the interior perforated cylindrical liner, which is designed to be used with the smaller pressure plate, you can probably also use this as a fruit press, although this is more substantial than your usual fruit press, weighs 40#, surface rust, will clean up easily, complete, Ex+, $125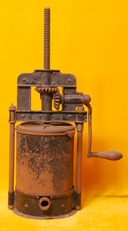 MILLERS FALLS BREAST DRILL #120A, for straight shank drills to 1/2", 2 gear ratios, Ex, $75
MILLERS FALLS BREAST DRILL, for straight shank drills to 1/2", gear ratios, adjustable length crank arm, built-in bubble level, appears older in design than the above (instead of rod between breastplate and chuck, there is a cast iron shat with open spaces), Ex, $60. You will find this and other tools on my Tools web page.
Volkswagen crest, wolf over castle over water, mounting prongs intact, ~2" high. I do not remember for sure, but this may have come off of a 1960 VW bug. $45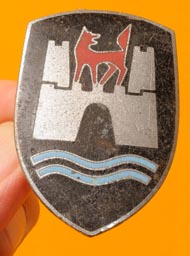 ---
about glennview, orders, inquiries
---
email to GLENNVIEW
---
return to the table of contents for glennview
---