35mm and DIGITAL CAMERA equipment
DIGITAL CAMERA equipment
PC_DOUGHNUT. Ordinary PC sync cords do not stay connected to the Nikon. There are PC sync cords with a threaded retainer that do stay connected, but they are time consuming to connect and disconnect. Screwed in cords may also be damaged when yanked. Your camera may also be damaged when the cord is yanked; it may be yanked off the table onto the floor, etc. My solution was to machine a Nylon doughnut that slips over the PC sync cord fitting and slips into the threaded receptacle on the Nikon camera. This keeps the sync cord connected and it is easy to install and remove. If the cord is yanked, the connector may be pulled out instead of pulling the camera to the floor. This will fit many analog and digital Nikon cameras. $20. If you also need a sync cord, add $10.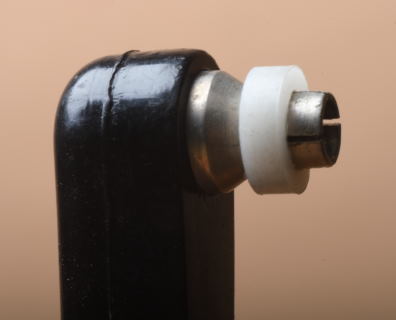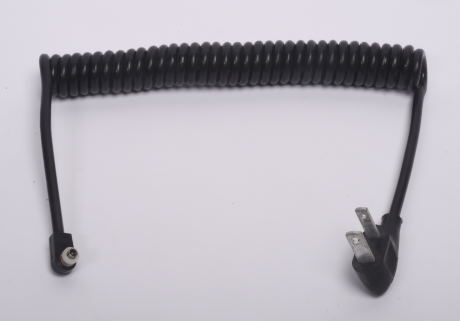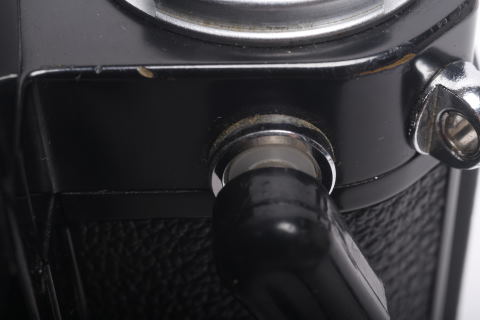 Auto Focus Fine Tune Target. Many digital cameras have the ability to fine tune the Auto Focus system. This jig is designed to help you do that. Meter long ruler with clearly marked fine lines is supported by a wood strip set into an L-bracket at 45 degrees. Focus your camera on the 50cm mark using the round test target and adjust AF fine tune until an equal amount of the image in front of and back of the 50cm mark is in equally good focus. A steel 3/8-16TPI threaded socket is set into the wood L-bracket base to accept most tripods. It can also tell you what your depth of field is at a given aperture with long lenses. Click on the 2nd image to see the scale as photographed with a 700mm lens. Included with the item will be instructions on how to use it and the reasons for it. Tripod not included. I now have a Nikon D850, which has auto AF fine tune, but it does not work for me according to Nikon's directions, so I continue to use this. If you buy it, I will have to make another. $125.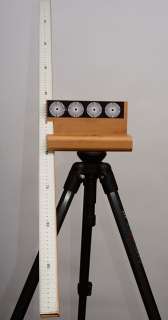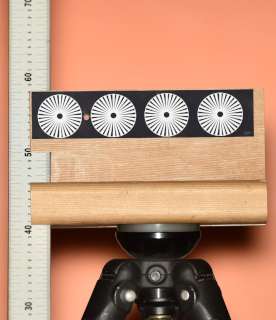 Arca Swiss compatible baseplate for many modern digital cameras with video capability. I wanted a square baseplate that would allow me to mount the camera in either of 2 directions. I searched for one. I bought one that was advertised as being Arca Swiss compatible. It was not Arca Swiss compatible. I made my own. Many modern video capable cameras have a hole in their bases that are designed for video use. That hole allows one to have a square baseplate. A pin goes into the hole while a screw attaches to the tripod socket. The baseplate is made of Phenolic. The pin is made of Nylon. The screw may be turned with a coin. The baseplate is centered on the lens' axis, is square with the camera and has no play. To my knowledge, it is available nowhere else. The last photo shows it mounted on my Nikon DSLR. $100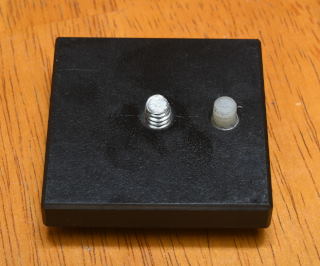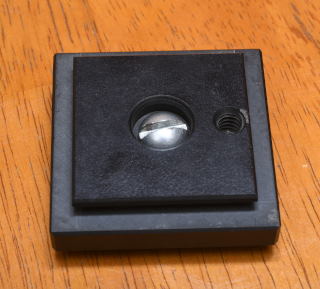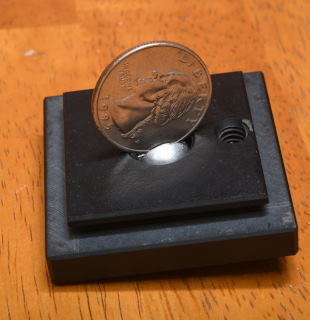 Arca Swiss compatible universal L-bracket to fit most camera bodies. 2 part design comes apart so you may use it as a base plate or an L-bracket. 1/4-20TPI camera screw. 1/4-20TPI tripod socket in each half. Chinese made. Either it is a bad design or it is cheaply made because there is a little play in the screwed together joint. I consider it better as 2 baseplates than as an L-bracket. $20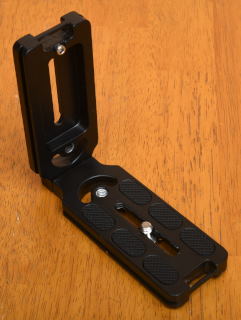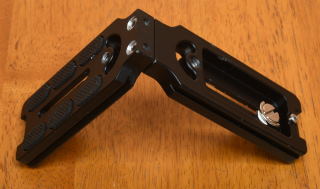 Arca Swiss compatible baseplate for Nikon D300/D300S camera body. Minimalist design; it is as small and lightweight as you will find. Black anodized aluminum. A GLENNVIEW product. $25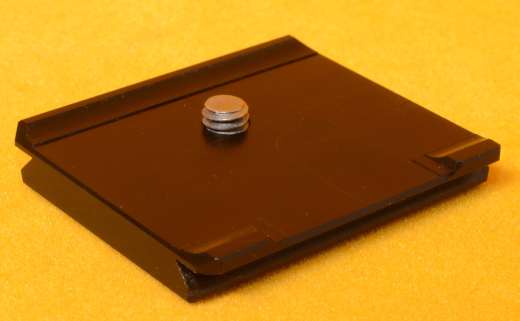 Focusing magnifier. I believe strongly in using the LCD to check my images for perfection. The careful photographer verifies that he has the image he needs before he leaves the scene. You can only do that if you can see the image as well as you can with this extraneous light blocking magnifier. This focusing magnifier was made out of a quality professional video camera eyepiece. It neatly fits into the Hoodman LCD protector with the folding hood removed. The magnifier comes with a cord in case you want to wear it around your neck. The focusing magnifier with the neck cord and the Hoodman LCD protector is $150. The focusing magnifier is useful with virtually any LCD. I have used it with every Nikon digital camera I have owned from a Coolpix to a D810. It was sized to fit neatly within the Hoodman for the D300. It may not fit as neatly with a Hoodman designed for another camera. It may not cover the full LCD of a camera with a larger LCD. The Hoodman LCD protector is not likely to fit another camera.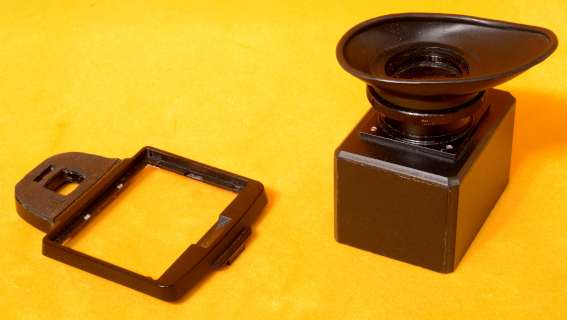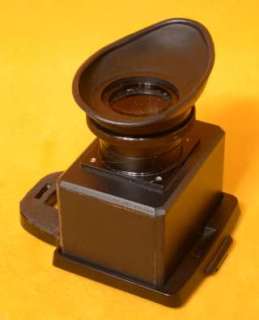 Much of the equipment listed under the 35mm slr section will work with your digital camera. I am personally using Nikon film and digital camera equipment because I have used Nikon film camera equipment since my 2nd camera. I still use lenses I bought in the 1960s.
Olympus E-20 English instruction book, Olympus CR-V3 3V Lithium battery LB-01 still sealed in its celophane wrapper, all original that came with my E-20 camera new, $20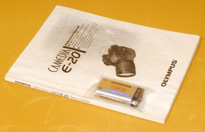 Tiffen digital camera auxiliary telephoto lens, 1.5X, coated, 37mm threads, will fit many digital cameras with appropriate adapter, with lenscap, came in with my Nikon Coolpix 900s, NEW, $5
Tiffen digital camera auxiliary wideangle lens, 0.65X, coated, 37mm threads, will fit many digital cameras with appropriate adapter, with lenscap, came in with my Nikon Coolpix 900s, NEW, $5
Tiffen 28mm to 37mm digital camera adapter for the above 2 auxiliary lenses, will fit Nikon Coolpix 900, 900s, 950, 990 and probably many other cameras with 28mm threads, NEW, $5 or free with the purchase of both of the above 2 lenses
Canon flash extension cord, 1 meter uncoiled length, about 1/2 meter usable length. For modern digital SLR. This was sent to me by mistake when I ordered one for a Nikon. NEW, $10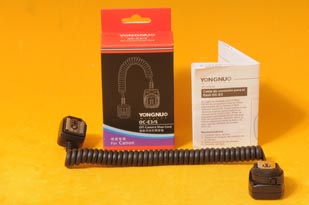 Nikon Coolpix 900, 900s, (maybe 950) to Macintosh computer connecting cable, NEW, $5
Nikon Coolpix 900, 900s, 950 990 camera case, NEW, $5
San Disk compact flash adapter, SDCF-05, adapts compact flash cards to PCMCIA slot on laptops, etc., boxed, NEW, $10
35mm SLR's and accessories
Nikon F2 '74 black body, DP-1 meter prism. The battery compartment is clean. Meter not working. Shutter speeds look accurate, but there is a light leak in the shutter curtain. Mirror stuck in up position. The viewfinder light hood was sold and replaced with the original glass viewfinder cover. This camera requires no batteries to function. I use this camera body as a prop. No body cap included. $40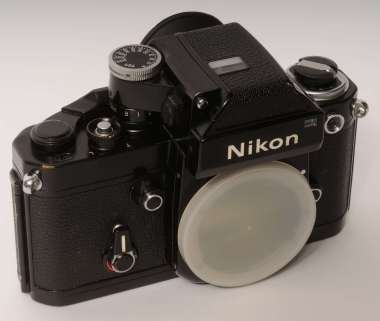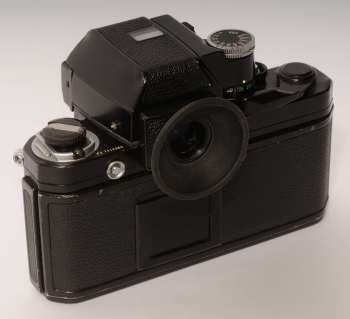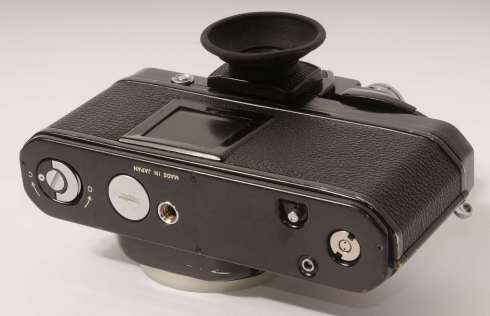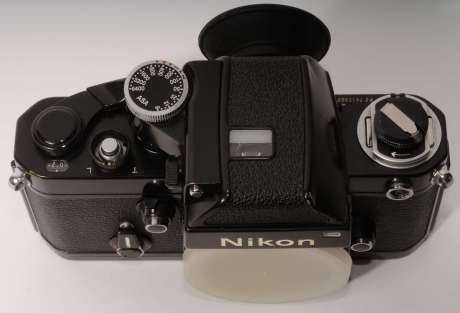 Nikon F '69 chrome body, F meter prism. This camera requires no batteries to function. The battery compartment is clean. Meter probably does not work. The neckstrap is attached with connectors designed not to come off unexpectedly. Camera not working. Useful as a prop or for parts. No body cap included. No VF light hood included. $30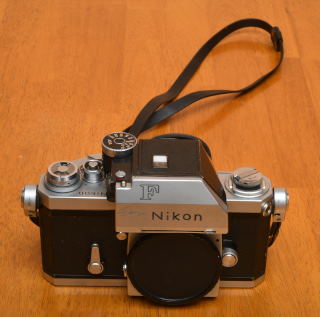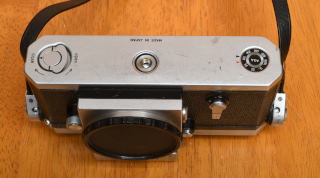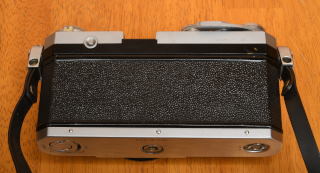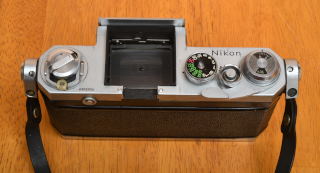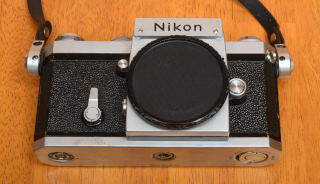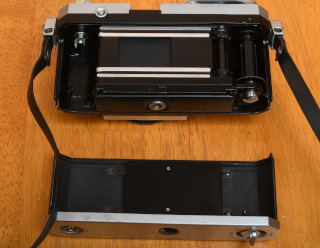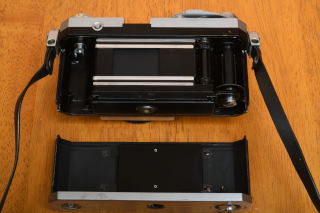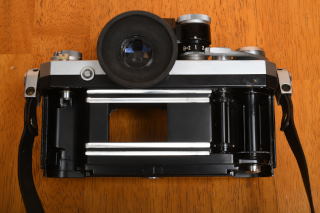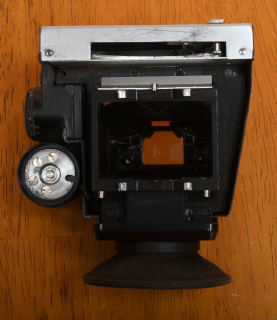 Nikon level. Nikon rangefinder vintage product, RARE, $50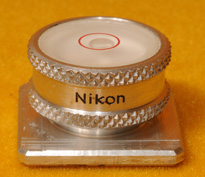 Nikon Panorama Head AP-2. Although it has settings for 28mm through 105mm FL lenses, only the 85mm and 105mm settings provide definite click stops. Virtually all AP-2 heads will be like this. It is still useful, however. Originally, the 28mm setting offered 6 click stops. The 35mm setting provided 8 click stops. The 50mm setting provided 10 click stops. The 85mm setting provided 18 click stops. The 105mm setting provided 20 click stops. This is a vintage film era item; the images overlapped only slightly. For digital images you need greater overlap. So, now you have 3, 4, 5, 6, 9, 10, 18 and 20 evenly spaced click stops possible with just the 2 settings that still work. If you want 6 click stops, set your head at the 85mm setting and advance the camera 3 click stops between each image. When the 2 spots are aligned, there are no click stops in play; this setting could be used for a video panoramic shot. Commonly listed elsewhere for twice what I am asking. Note the chip out of the casting at one end of the base. 1/4-20TPI camera screw and socket. You will find some GLENNVIEW panorama heads on my TRIPODS web page. $30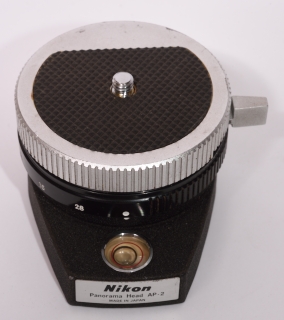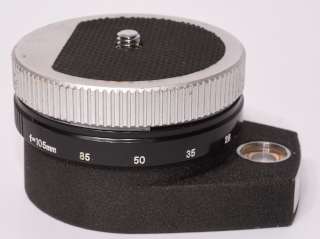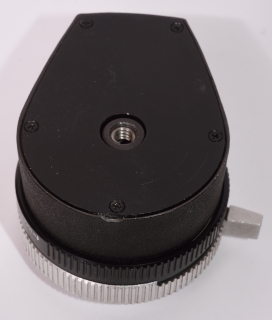 Nikon F baseplate for either motorized or non motorized camera. Note the differences. This is the baseplate that is at the bottom of the camera visible when the back is off the camera. If you want to use a motor with your camera, then you will need the baseplate for the motorized camera. The non-motorized baseplate is $10. The baseplate for the motorized camera is $OLD.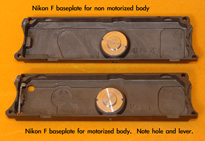 Nikon F and F2, etc. cable releases. Your choice, $15. The 3 black ones are all labeled "Nikon." The silver one is not labeled. All are locking releases.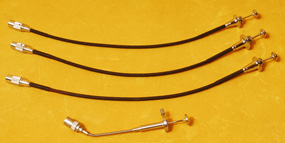 Nikon F or F2 everready case. Will hold F or F2 camera (and some others) with meter prizm. All functions as designed. Your camera straps attach to the camera body. $40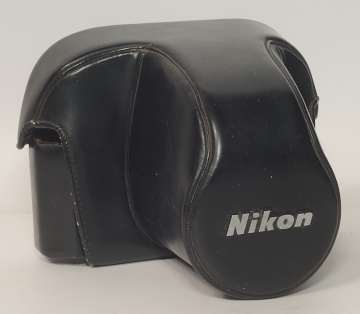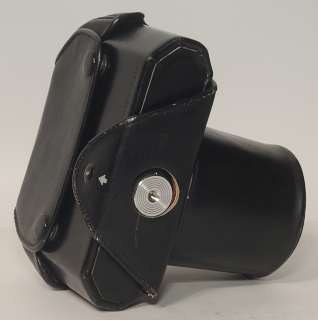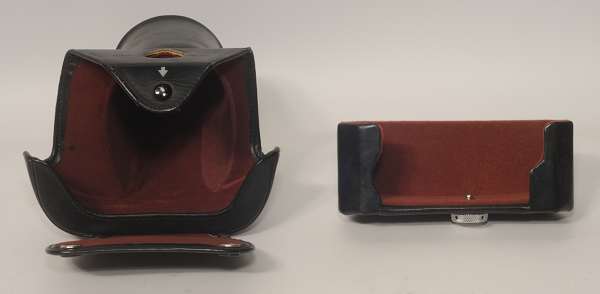 Nikon shoulder bag, Nikon F/F2 vintage, designed to hold 2 bodies and 3-5 lenses, filters, film, etc. Metal plate with bayonet fittings for 3 lenses. Ugly, but functional, black plastic case has an aligator skin appearance, although it wasn't planned that way, interior is clean, may be worth the price to you for the bayonet lens mounts alone. There is even a key for the lock, but you are not likely to need it if you remove the Nikon logo. This case is not likely to be stolen. The back side that rides against your body is fairly smooth. $20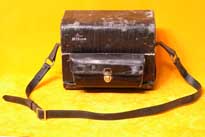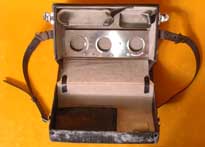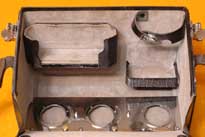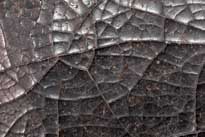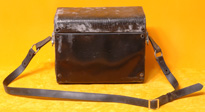 Nikon F back, $20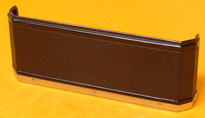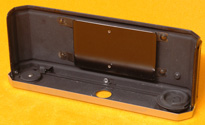 NIKON to WHATEVER ADAPTER. The adapter is 100% Nikon, abeit removed from a piece of Nikon equipment and machined round on the outside edge. The extension of this adapter is just sufficient to clear the camera's flash. This adapter allows the body to rotate 90 degrees. This part is $200. If you want me to neatly and professionally mount it on your lensboard or whatever, I can do that for you for a labor charge. The last 2 images show the Nikon adapter mounted on a Sinar P lens board.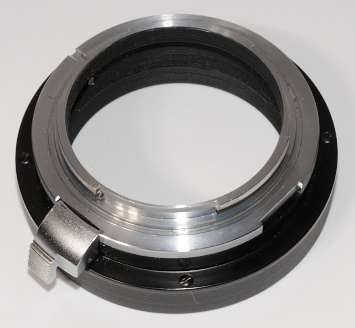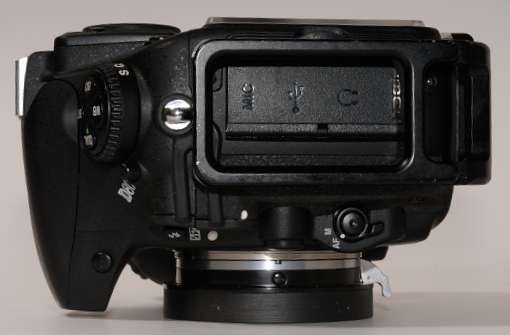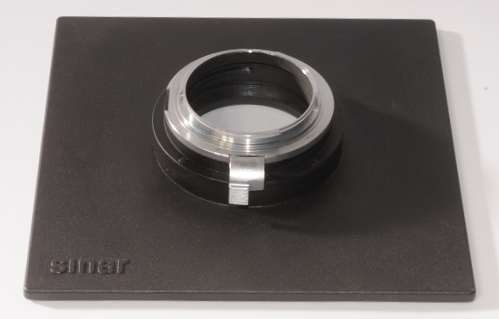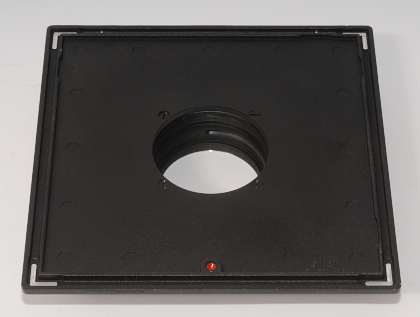 NIKON BELLOWS MODEL III. These are about as small and compact a Nikon bellows you will find. Focusing is good and tight with no slop. If you want to use these with a D800, buy the E2 extension ring to provide clearance for the body. I do not know of any other Nikon bellows that will accept the D800 w/o an extension ring. Will work fine as is with the D300 and most other Nikon bodies. Lever lock on base of front standard. Bellows in great condition. $75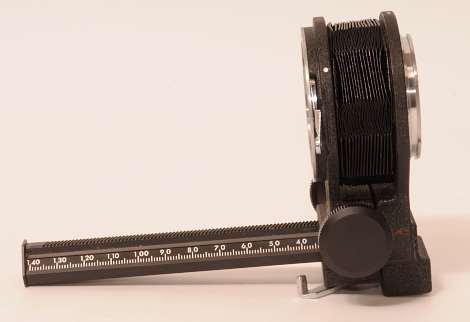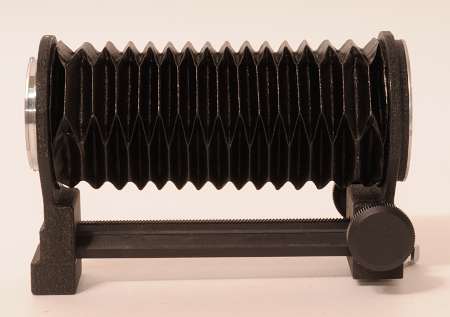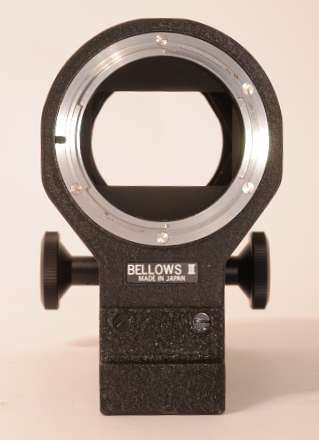 NIKON BELLOWS MODEL II for PARTS. The bellows were in Mint condition before I removed the lens mount and the camera mount. The lens mount was simply unscrewed. The rear standard was cut off of the standard bearer. The standard bearer was then milled smooth. The bellows are light tight. The bellows frames are still present. The slide copier was unaltered. $25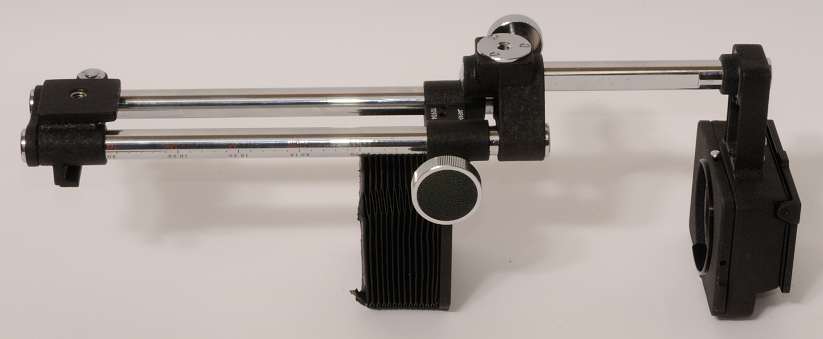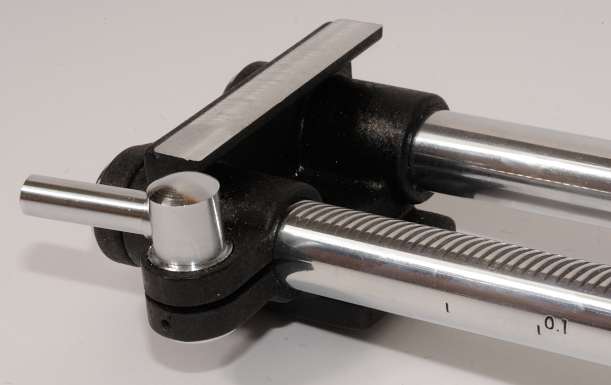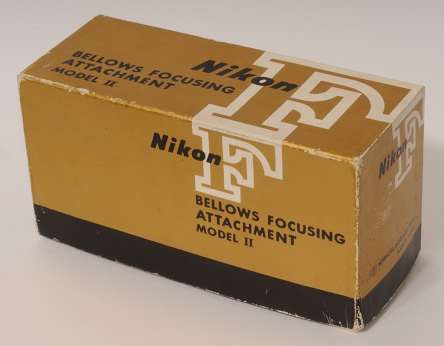 Nikon female bayonet ring, $10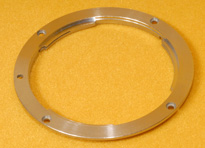 Nikon D200 camera lens mount ring, $10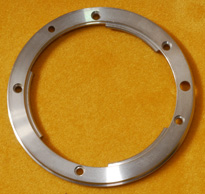 Nikon M extension ring, with automatic diaphragm linkage, Ex+, $50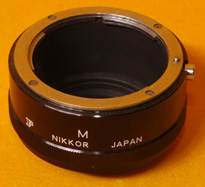 Nikon M2 extension ring, with automatic diaphragm linkage, Mint, $65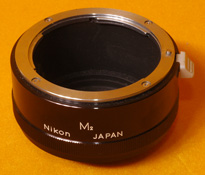 20mm F4 AI Nikkor, coated, Mint glass, worn barrel, lensshade, caps, Ex, $350.
24mm F2.8 AI Nikkor, multicoated, works with D200 and D300 and similar cameras in aperture priority mode, lens badly scratched with many fine scratches and a few larger ones, some effect likely when shooting into sun, otherwise VG, caps, $50. The AI ring and other parts could be worth that much to you. The lens still functions OK as is.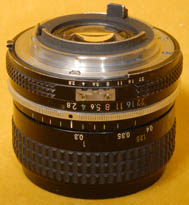 28mm F2.8 Professionally AI'ed Nikkor, multicoated, caps, works with D200 and D300 and similar cameras in aperture priority mode. $100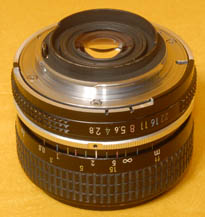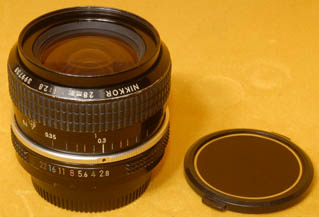 28mm F2.8 PC-Nikkor, multicoated shift lens, caps, works with D70s and D200 in manual mode, Mint, $700
35mm F2 AI Nikkor, multicoated, caps, Mint glass, Ex barrel, $150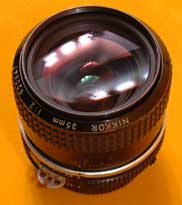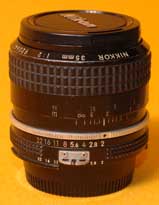 35mm F2 Nikkor, non-AI custom converted to AI, coated, box, glass perfect, Mint-. Works with D200 and D300 and similar cameras in aperture priority mode. $180.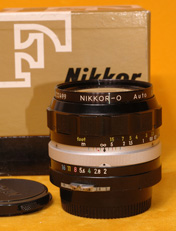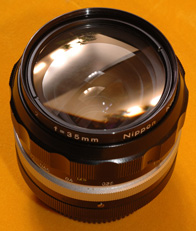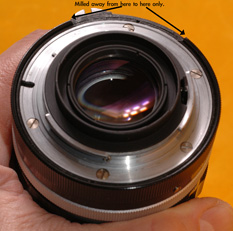 35mm F2.8 PC-Nikkor, multicoated shift lens, caps, works with D70s and D200 in manual mode, Mint, $500
50mm F1.4 Nikkor-S, non-AI, coated, some slight marks glass, some slight brassing on barrel. The F-stop ring has been machined off at the rear so it would fit onto a digital camera. There is no indexing finger on the F-stop ring. I use it on a digital camera, but I have to trick the camera by specifying the working F-stop in the non-CPU lens data whenever I use it. It works. VG, $60
50mm F2 Nikkor, machined so that it will work with D200, D300, D800 and similar cameras in aperture priority mode, multicoated, extremely clean. I recently took it on location and made this image with it handheld, 1/60 second, F2, focused on infinity in order to get that fluid, dreamy look in the water. $150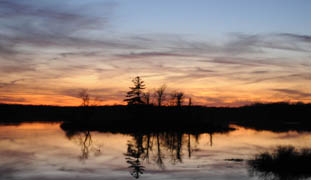 55mm f2.8 AI Micro-Nikkor, multicoated, this is the lens that most of the images on this web page are made with, Mint-, $275
Micro-Nikkor 1:1 jig, designed to allow you to photograph at life size without having to focus. Anything reasonably flat that this jig is placed upon will be in focus. I designed this to photograph some moles on my body. Rather than show you some gross photos of moles, I photographed a postage stamp. I used the light that I did in order to show texture on the moles. Other types of lights could also be used and would even perform better in some instances. The mounting ring fits 52mm threaded lenses. That is a millimeter scale along one edge; it is just taped on, so may be removed and replaced easily. A GLENNVIEW product, available nowhere else. $200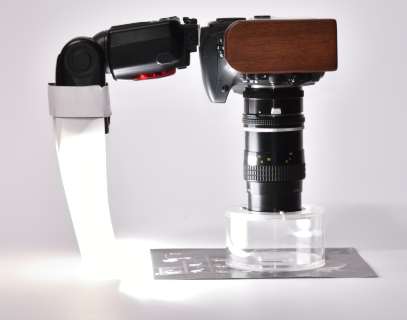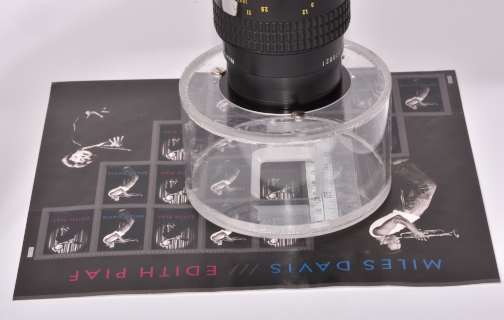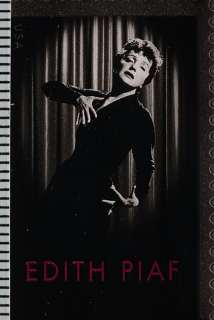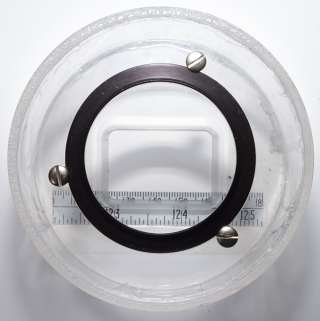 105mm F2.5 Nikkor-P.C, coated, professionally AI'ed, newly cleaned, lubed and adjusted, reversible lensshade, front and rear caps. One of Nikon's sharpest lenses. Perfect glass. Works with D200, D300, D800 and similar cameras in aperture priority mode. $200
200mm F4 Nikkor-Q, coated, non AI, boxed, purchased new by me in late 60's, box. I kept a filter on this lens from the beginning; glass perfect. Lenscaps. Built-in extendable lens shade. This lens produced images that ran full page front newspaper cover and double truck inside. Mint-, $130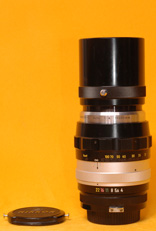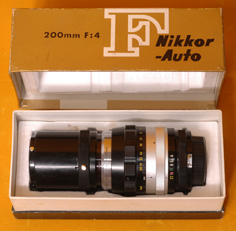 Kirk Enterprizes NC-300 rotating tripod mounting collar with Arca Swiss compatible foot for use with 300mm AF-S F4 Nikkor D ED IF lens. I highly recommend this product. Your lens rotates within and upon Teflon. $135. The lens has been sold. The tripod and the gimbal head are listed separately on my Tripods web page, where you will find a lot more photos. All 3 items items are available as a package for $700. Prefer a different tripod? I am amenable to that. The image of the green heron was made with this outfit.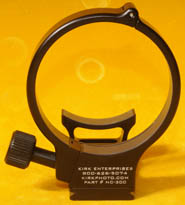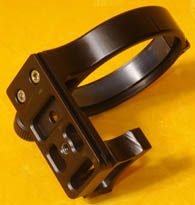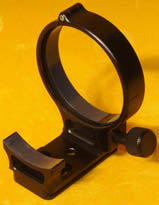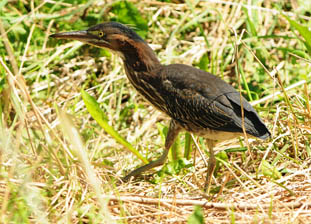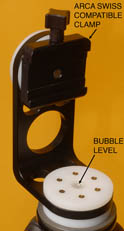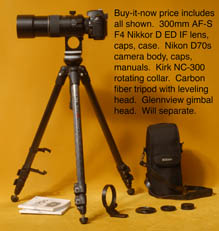 Nikon ED AFS 300mm F2.8 Nikkor D lens with silent wave motor. Really well built. Plastic lens hood. Rubber focusing ring. Otherwise, this lens is mostly metal and glass. Multicoated, of course. Extremely sharp lens. There is a scuff or 2 on the lens hood. The case latch turn button is missing. Otherwise Mint. I like the lens, but I haven't used it much becase I have the 500mm lens (if you have a big lens, use it). I do use the 300mm lens when I can get close enough to my subject. The 300mm lens focuses to about 5' whereas the 500mm lens focuses to about 15'. The 300mm lens is perfect for photographing hummningbirds, hawkmoths, dragonflies, etc. I also like it for formal portraiture because it flattens facial features. It is fantastic for sports photography! $OLD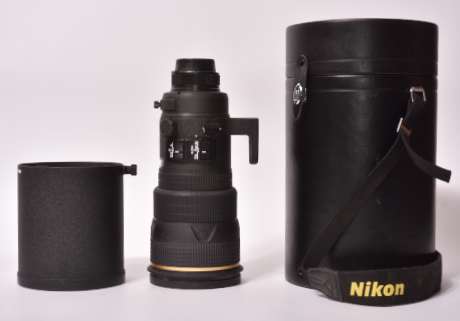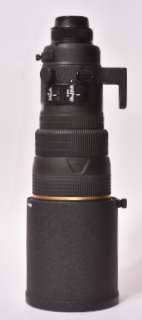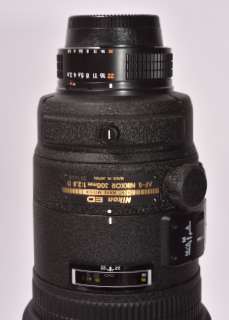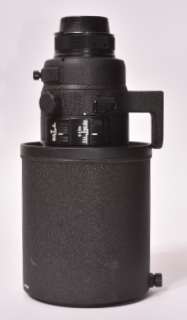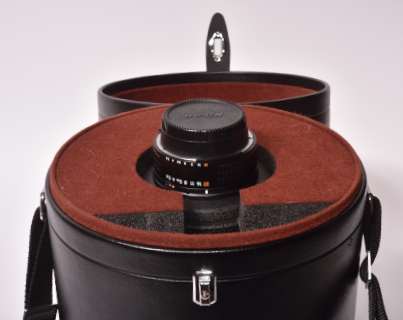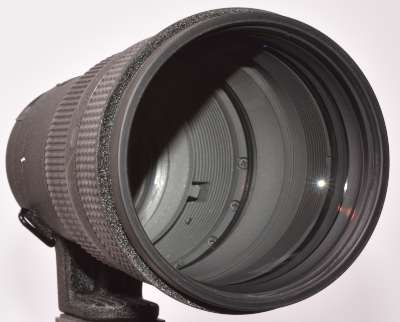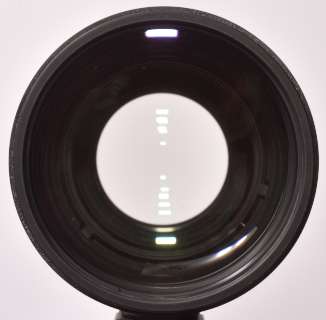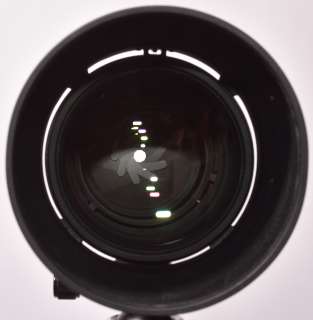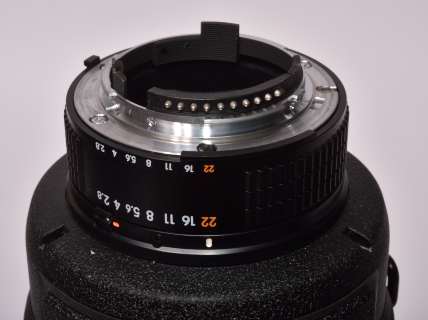 Accessories for Nikon ED AFS 300mm F2.8 Nikkor D lens with silent wave motor. Fits a lens like the above. Foot with Arca-Swiss compatible dovetail plate. Foot screws to the existing Nikon foot. The right angle post provides additional support. Lens cap fits the lens--not the hood. Foot, $50. Lens cap, $25. Both, $65.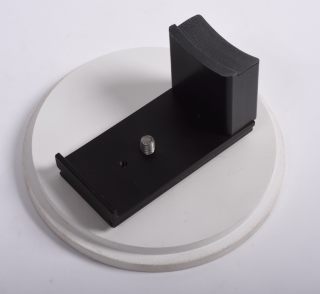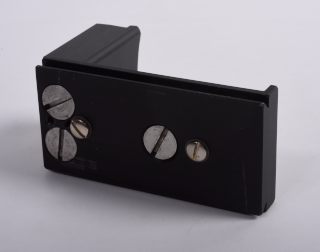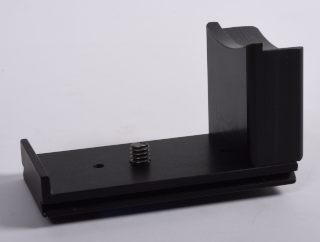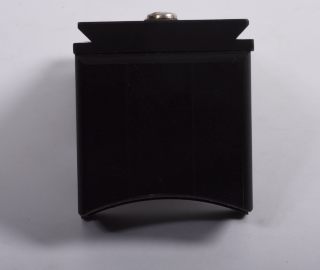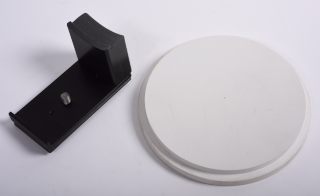 AFS 500mm F5.6E PF VR lens. I sold both of the 500mm F4 Nikkor G ED VR lenses that I had after I worked with the 500mm F5.6E PF lens. The 500mm F5.6E PF lens is such a joy to work with. I can hand hold this lens! I can carry this lens all day! I filled up a 128GB XQD card photographing short eared owls just before and after sunset. I still had the F4 lens at that time, but thought I could do a better job with the F5.6 lens because of the freedom of being able to hand hold the lens; I was not disappointed! I am only selling it because I bought 2 of these lenses. These lenses are no longer in short supply. The lens was purchased from an authorized Nikon dealer. I have used the lens only a little because I bought it in the fall just about the time the birds had all gone South. Now I am without a vehicle and the city and state have closed all the parks where I might photograph birds. The lens looks and performs like new. The lens comes with all that came with it new. The last picture shows the AFS 500mm F5.6E PF VR lens next to the AFS 500mm F4 Nikkor G ED VR lens. There is a huge difference in the size and weight of these 2 lenses. $3500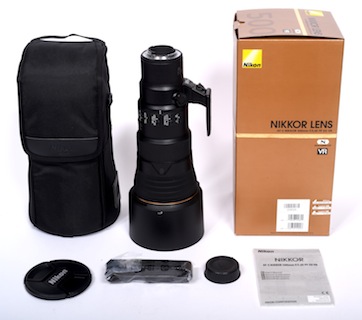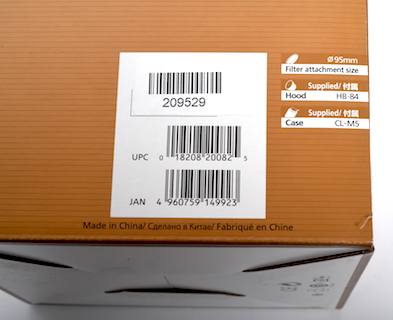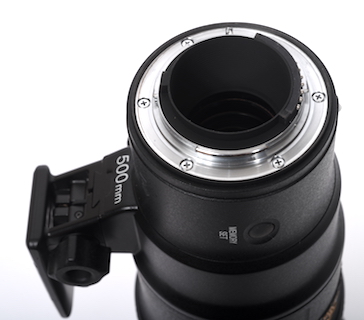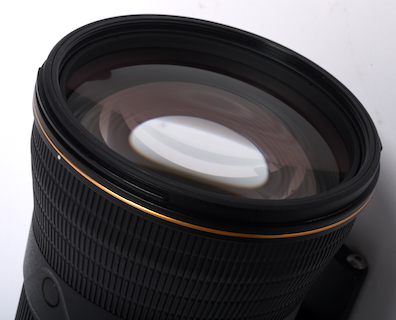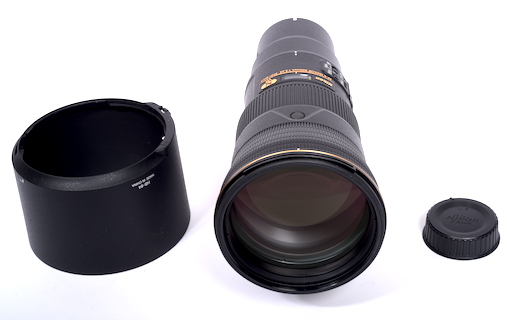 AFS 500mm F4 Nikkor G ED VR lens + useful and valuable extras. In addition to the USA lens, you get a GLENNVIEW cradle head made expressly for this lens. A Really Right Stuff Arca-Swiss compatible foot is included. A GLENNVIEW steel eyebolt is installed on this foot that allows you to hang the lens from an included Duluth Trading Company shoulder strap that has been custom modified to mate with the eyebolt. The GLENNVIEW head cradles the lens in 2 places 8" apart and locks down with a steel bolt through the eyebolt to provide great stability. The head swivels 360 degrees and tilts 55 degrees up or down. One knob adjusts the drag and locks the head; I consider this a necessary attribute for a head designed to be used for photographing birds and animals vecause you need to work fast. The head rests in the GLENNVIEW cradle head on Teflon tape; a roll of Teflon tape is included. The head swivels freely upon a Teflon disk that goes underneath the head. The head tilts upon Teflon pads. A Nikon 52mm drop in circular Polarizer is included along with 2 gel filter holders, one of which has a Kodak 2E UV filter in it (the best UV cutoff filter made). A GLENNVIEW dust and rain cover for the Nikon case also hides the case from view. The Nikon case comes with keys. A convenient GLENNVIEW lenscap is included. This was Nikon's latest and best 500mm lens when I bought it several years ago. A shooting partner bought the newer version of the lens; looking at our images......you cannot tell which lens was used to take which picture. The newer lens is 1.8# lighter, but I consider that not worth the addtional investment. I cannot hand hold either lens for any length of time. I carry my lens and a whole lot more in a handcart that I pull behind me. I like shooting from a stable platform. You probably have not experienced stability like you will get with the GLENNVIEW head--which is designed to be used on most tripods. I use it on several tripods depending upon the conditions. For these photos it is mounted upon a #5 series Gitzo. I cut a hole in a sheet of paper and put it between the head and the tripod for the sake of these photos. I do have a #5 series Gitzo and other compatible tripods that you are welcome to buy; they are listed on my TRIPODS web page. The lens was new in 2008. The lens was a backup lens for the 1st 5 years of its life, having been used little in that time. I had much experience with using such a lens, so I knew how to best handle the lens and have used it very carefully and respectifully since. The lens is in perfect working order. It has never been knocked around or abused. It has never needed servicing. There is a little bit of cosmetic wear on the lens barrel in front of the foot that is illustrated in one of the photos. $OLD, but the accessories remain. The cradle head is listed below. The gel filter holder is $90. The Polarizer is $200. The case cover is $20.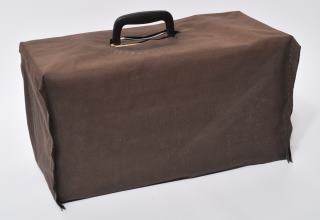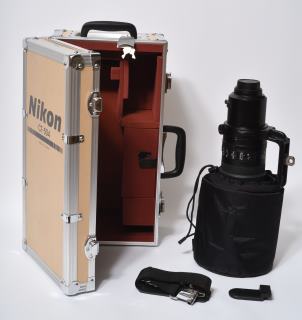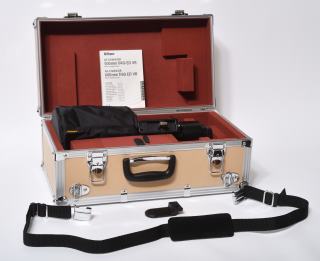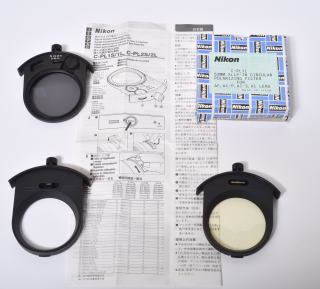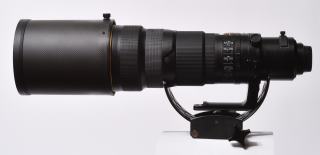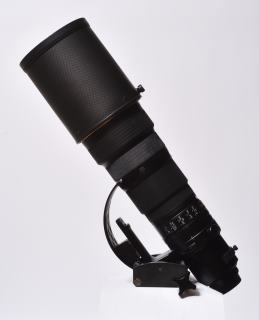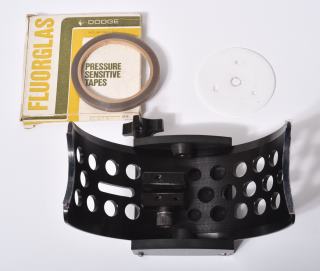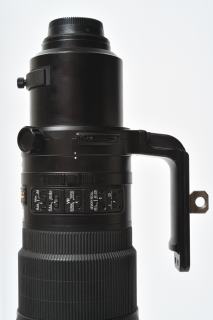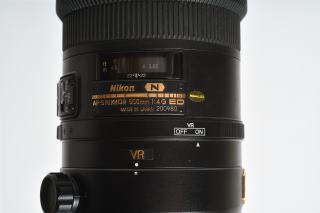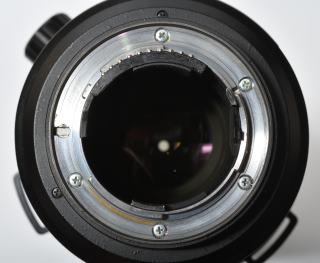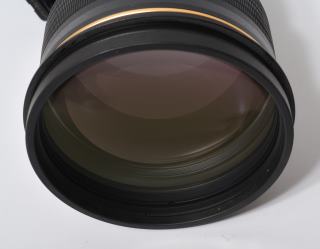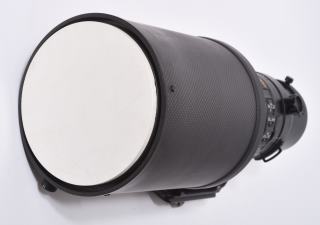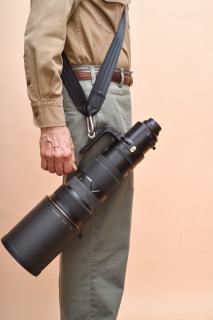 LITEWARE CASE for virtually any long lens up to 600mm. I used it with the 500mm F4 lens with camera attached. The lens hood must be reversed on the 500mm or 600mm lenses to fit in the case. The 300mm F2.8 or the 500mm F5.6E PF VR lens may be put into the case with the lens hood in working position and the camera attached. The case is well made of thick Nylon covering over foam panels. The shoulder strap is in the shortest adjustable length in the photos. The hand strap is not adjustable. There is a strap for carrying a tripod or monopod. I put a dowel in that location. 3 pockets around perimeter--one of which accepts the tripod or monopod. There is a zippered pocket in the top. $80 2 available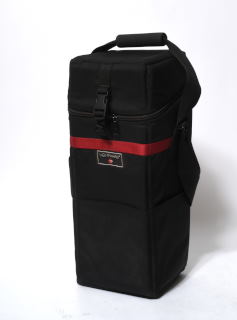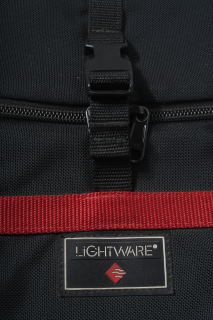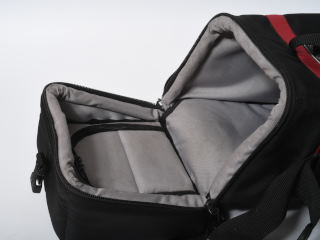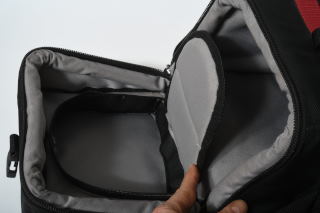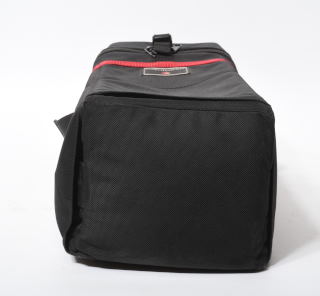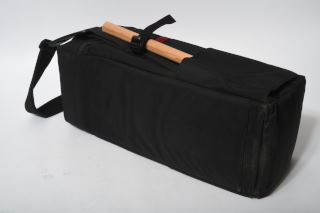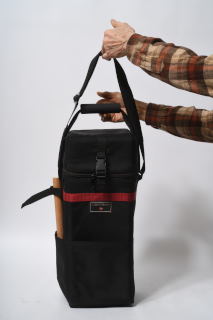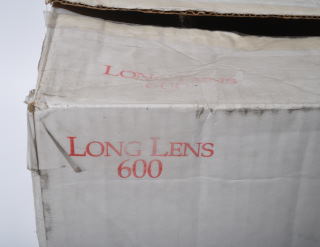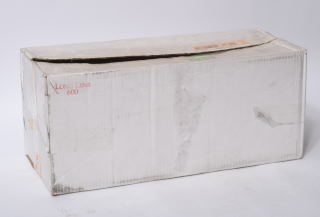 Maximum power Flash extender for AFS 500mm F4 Nikkor G ED VR lens + D800, D800E or D810 camera body + SB900 or SB910 flash with or without 1.4 or 1.7X tele-extender.. The Better Beamer is a fine piece of equipment, but it is designed for use with 300mm lenses and longer. Actually, the Better Beamer covers more than does a 300mm lens; any excess coverage is wasted. This GLENNVIEW FLASH EXTENDER maximizes the use of the light emanating from the SB900 or SB910 flash with a 500mm lens. There is little extra coverage when used with a 500mm lens, so aiming the flash extender is important and that is incorporated into the design. You have no doubt encountered Fresnel stop and go lights; and you have no doubt noticed that you can only see them within a narrow angle of view......but they are quite bright within that narrow angle of view. That is the way Fresnel lenses work......they focus the light. Having extra light coming directly from the camera fills in the shadows to eliminate the harsh contrast of a purely sunlit scene and it allows you to shoot at higher shutter speeds and/or at smaller F-stops and/or at lower ISO. I have found the GLENNVIEW FLASH EXTENDER invaluable for wildlife photography. The GLENNVIEW FLASH EXTENDER is not meant to be used with any other camera, lens and flash combination. Although I could make a GLENNVIEW FLASH EXTENDER for use with other camera, lens and flash combinations, I would need the camera, lens and flash in order to do so because a lot of empirical testing is required. You could make your own, but I must warn you that there is a lot of work involved. A custom one would cost $1000 because of all the work involved. I can sell you this one for $500 only because all the time developing it will be used to make another. The GLENNVIEW FLASH EXTENDER is lightweight. It is made of Polycarbonate, aluminum, cotton, Nylon, Velcro, rubber, steel and a whole lot of trial and error testing. Open Fresnel lenses such as the Better Beamer can burn holes in your flash or your camera, etc. The GLENNVIEW FLASH EXTENDER is largely protected against such problems because it is lined with aluminum. I tested the GLENNVIEW FLASH EXTENDER. I tried to burn a hole in it by aiming the lens at the sun for 7 minutes while focused on the same spot on the interior of the device. The aluminum lining reflected the sun's rays and no damage was done. The GLENNVIEW FLASH EXTENDER is large enough that it protects your lens from bird shit. The fully enclosed GLENNVIEW FLASH EXTENDER does not broadcast your location; only those directly in front of the flash will likely see the flash in daylight. I only have this one GLENNVIEW FLASH EXTENDER made at this time. If you buy it, I will have to make another ASAP for my own use. In the near future I will make another GLENNVIEW FLASH EXTENDER optimized for use with my 300mm F2.8 Nikkor lens; I believe I can make one that will outperform a Better Beamer. On this page you will see several custom made accessories for the 500mm F4 Nikkor lens--my prime lens for wildlife photography. Note the tripod head, etc. that I made. These items are made for my own use; I do not cut corners making equipment for my own use. Isn't that the way you want equipment made for you? Note the detail in the blacks and the lack of excessive contrast in the blackbird. There is plenty of contrast in the image of the great blue heron, but that was by design as I was aiming for the low key image that you see; there is, however, also just enough detail in the shadows--provided by the flash to achieve the desired result. The GBH was shot @ 1/1600 second late in the afternoon; High Speed Sync does not put out much light at high shutter speeds, so a GLENNVIEW FLASH EXTENDER was virtually necessary for this image. The 2nd image of a GBH shows you that the GLENNVIEW FLASH EXTENDER has enough power to better illuminate a large bird taken at a distance. My shooting partner, working with a better beamer did not even attempt to photograph this backlit GBH. I was not using full flash power because I wanted the backlit GBH to look natural. Without flash fill, this backlit GBH would have been a silhouette. The images of the female Towhee, with and without flash, are taken in a typical situation you find birds in.........backlit with a bright background. Flash fill even improves images made with descent available light, as illustrated by the 2 images of the Blue Wing Warbler. A very good local photographer that I occasionally work with side by side proudly exclaims that he does not use flash; he misses a lot of great images as a result I know from my own experience. When you use the GLENNVIEW FLASH EXTENDER also dial in exposure compensation so that you do not use any more flash power than necessary or desirable. The GLENNVIEW FLASH EXTENDER is large, but it does not prevent me from hand carrying the camera with flash attached.......held upside down by the foot attached to a shoulder strap + my hand. Of course, whenever I can, I use a handcart like the one listed below for carrying all my various gear in the field. The image of the deer was taken at dusk with an 850mm lens (500mm lens + 1.7X tele-extender), hand held, with the lens barrel resting upon the handcart handle. I took 6 shots of deer at dusk under such conditions and all were equally sharp. The images of the deer are that sharp because the primary light source was the strobe, not because the lens was solidly mounted. $500.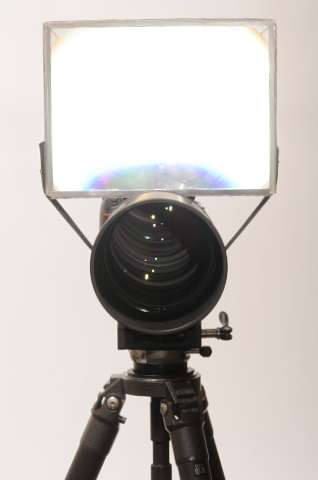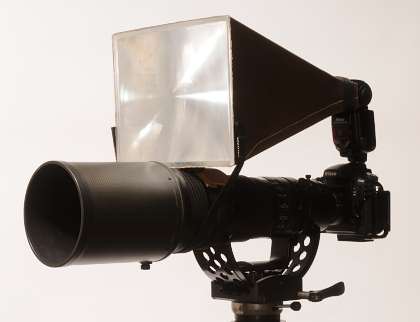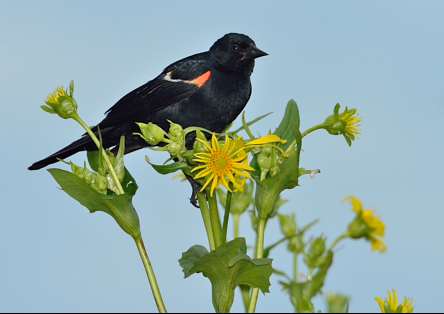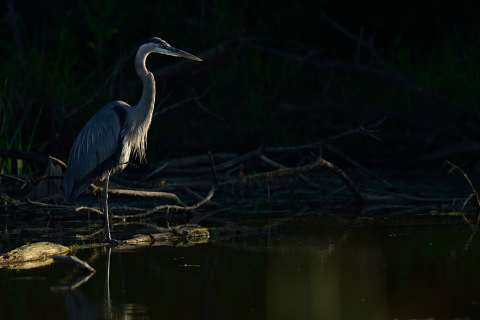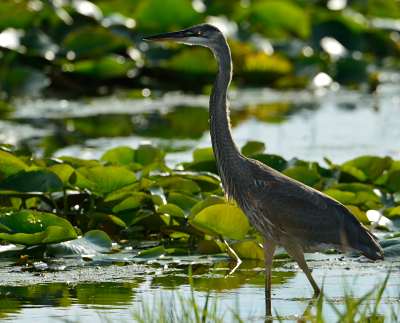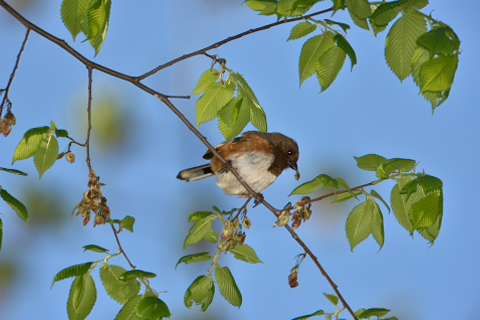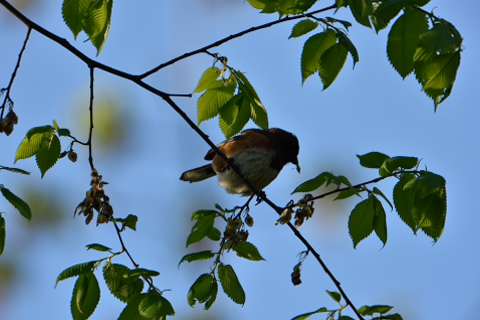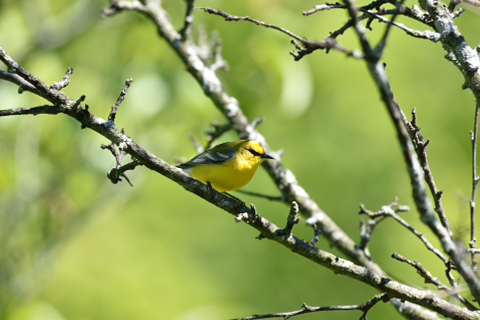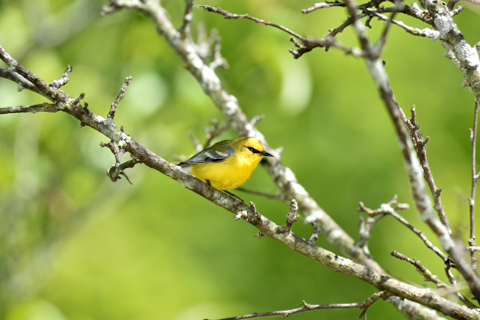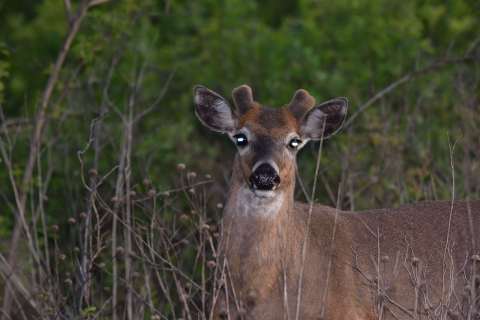 HANDCART FOR LONG LENS FIELD WORK. It can be tiring carrying a long lens, tripod and accessories in the field all day. Whenever possible--and it is possible most of the time, I carry my gear in a handcart. You can carry a lot more in a handcart than you can on your body. You can go prepared for whatever might come up. Carry your lunch, water bottles, and a whole lot more. The large 24" pneumatic wheels allow you to traverse rough terrain. The handle on the front makes it easier to lift the handcart into your vehicle. A dense foam padded seat plugs into the handle and is stored in the center compartment on the front--along with a whole lot more. There is a padded compartment for your camera with long lens with lens shade in working position. You see a collapsed Gitzo 1548 tripod with head attached in a padded compartment, but I oftentimes leave the tripod extended in that compartment--ready to use. The cart is 56" off the ground in standing position. The large pull handle allows you to pull the handcart with a gloved hand or two. I oftentimes pull it with 2 hands centered behind me to keep the total width of me and the cart at the 29" width of the cart. The front compartments are 28" tall and will accommodate just about any long lens with extender and camera attached. The cart itself is a rare vintage cart made in the USA that I bought used about 1980 in California. I have always stored it inside. I chose it because it is superior to any other cart I have found. I offer it only because 31 years later I found another cart of about the same vintage by the same manufacturer. I am offering you the best of the 2 carts; I keep the inferior cart because it will outlive me anyway. Want to try it out? Visit me. Bring your camera gear to verify that it will fit in the cart. We can take it out on a field trip. The cabinet is made of 3/4" pine and 1/8" Baltic Birch plywood all very solidly put together. The cloth covers are waterproof material designed for building watercraft; they are held open and closed with Velcro. A lot of work went into building this. I 1st built a usable prototype out of lesser materials to test out the design and make sure it was balanced when loaded; balanced means that the loaded cart does not pull up or down excessively when in position to be pulled. I built it for myself; I did not cut any corners. The rear compartment is designed to hold a water bottle, binoculars, and other items you want to keep at your fingertips. The wheel bearings are newly lubricated. The vintage tires and tubes are still OK; new tires and tubes are readily available and I will gladly buy and install a set for a fee. Once while in the field--literally a plowed field, which is no problem for this cart, another birder approached, lugging his gear on his back and asked if I were a National Geographic Photographer or something like that. He seemed most envious of the cart. The seat is 23" off the ground, a very comfortable height. You can rest your arms on the top of the cart while seated. It seems to be a magic seat too. It seems like whenever I sit down a bird or an animal that I want to photograph will show up. The first day I used the cart was typical of my experiences using the cart. I had hauled the cart over about 6 miles of trail with little success. It was Fall, past the peak of the migratory bird season. Late afternoon I had some success with a Yellow Rump Warbler, but had to give that up when the sun disappeared behind a tree. I moved on, easily pulling the cart behind me on a fine gravel path. I saw a female Northern Harrier flying over an open field and I made a beeline through tall weeds to a high spot from which I might be able to spot the Harrier over a very large area. Before I got there the Harrier flew past me while I was still pulling the cart. I stopped, pulled out the already extended tripod, put the camera on the tripod and photographed the Harrier from the closest range of the day. I got another opportunity to photograph the Harrier from a great distance. I was seated again when a coyote showed up. Amazingly I saw the coyote before he saw me. I was able to capture the coyote the moment he saw me in that 1st photograph--which shows how far away the coyote was; subsequent images of the coyote are cropped. The purpose of this account is: At the end of a long day in the field, during which I had traveled about 8 miles with a heavy load of camera gear, some of it over rough ground, I was much less tired than I would have been had I been carrying the equipment on my back. I had the water, food and other amenities that I needed to maintain myself throughout the day. Being less tired, I performed better. I got better pictures than I would have without the cart. I actualy felt invigorated at the end of a day in the field. The handcart with the cabinet is only $450; use it once in the field and you will think it a bargain. You could find your own handcart and build your own cabinet, but you will not likely find such an ideal handcart as this. You may be able to build a cabinet as well as this, but you probably will not be able to build it as inexpensively as this--if your time is worth anything. With the design time, the building and testing of the prototype, the construction of the cabinet and the fine tuning after use, I have well over a week invested in this handcart. Just below see a built-in combination tripod mount and handle mounted on another version of a photographic equipment hauler.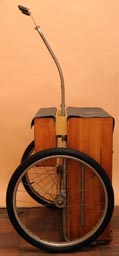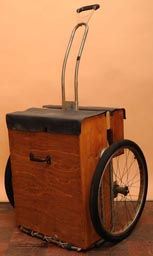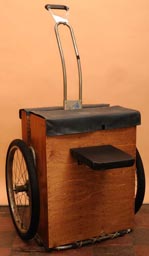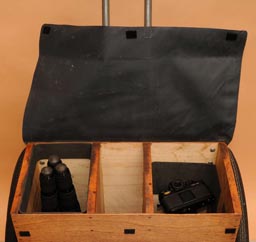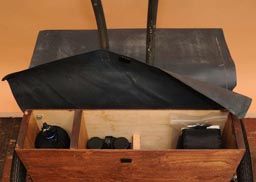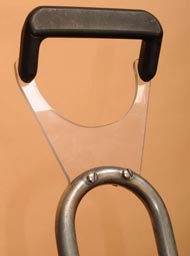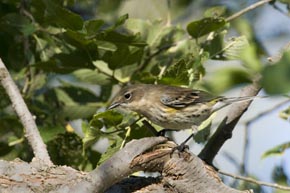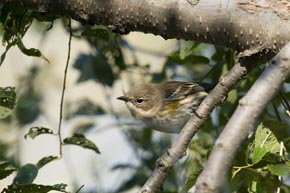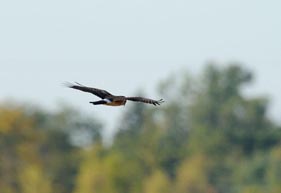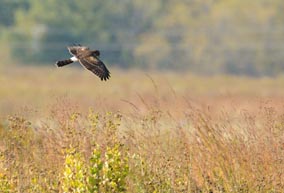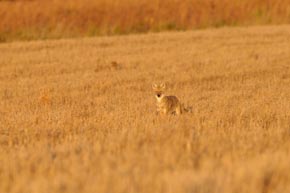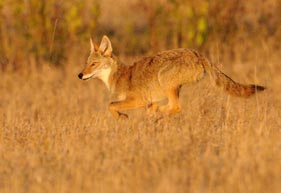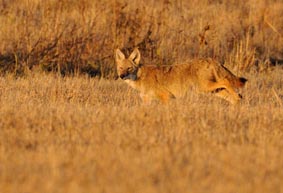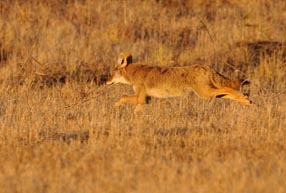 TRIPOD MOUNT FOR HANDCART. Oftentimes wildlife will flee before you have time to set up your long lens on a tripod. I designed this tripod mount with a combination lens cradle and handle that mounts on that tripod mount. I added blocks to the bottom of the front of the handcart that in combination with a rear leg that lifts the handcart up off it's wheels and provides a 3-point stable support. That rear leg mounts quickly and can double as a monopod. The lever with the red knob may be quickly released to allow the lens cradle to revolve. Now I can be ready to shoot much faster. This setup will allow me to get shots of wildlife that I would not otherwise get. The tripod mount is illustrated on another handcart similar to the above. The lens cradle is illustrated in the listing just below and is available separately, but included with this offering. The red knob handle was lost and has been replaced with an aluminum knob that is screwed and epoxied on so it will not get lost. A GLENNVIEW product. The tripod head, handle, monopod, and feet added to any of my handcarts, or for use on your Canondale cart, are available for $400.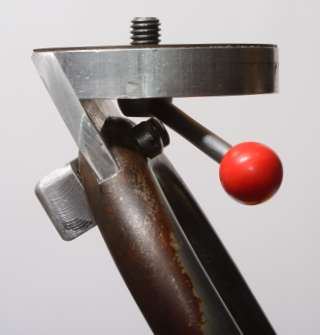 LENS CRADLE for monopod, bipod, or tripod, etc. Designed specifically for a 500mm F4 Nikkor G ED VR lens. A close fit provides better stability and better safety for your lens. The lens is supported in front of the focusing ring and behind the hood. Aluminum construction with Velcro fleece used to protect the lens. 3/8-16TPI camera socket. A GLENNVIEW product. $120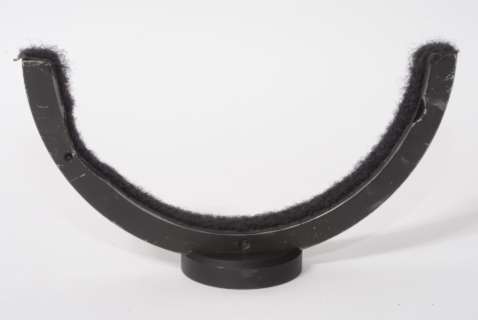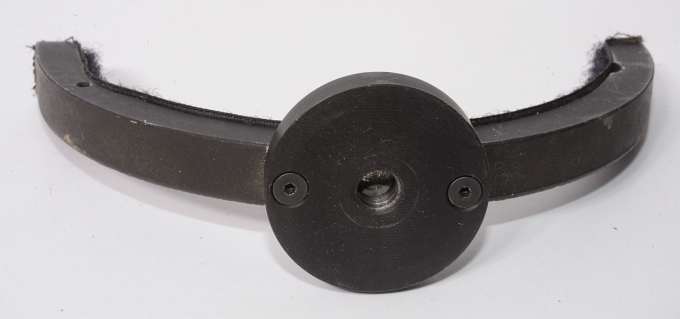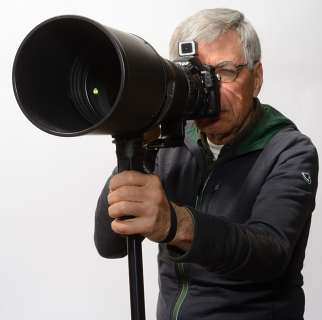 Memory Recall handle with easy-find-switch-plate for AFS 500mm F4 Nikkor G ED VR lens. For following birds in flight, it is virtually necessary to use the memory recall switch at the front of the lens for those occasions when the lens gets way out of focus. Before I added the Memory Recall handle I had a great deal of trouble finding Nikon's Memory Recall switch when I needed it NOW! If the lens is way out of focus, you will not be able to see the bird against the background nor will autofocus be able to regain focus. When I anticipate photographing a bird in flight, I set Memory Recall for the approximate distance of the bird. If the lens goes way out of focus I push the Memory Recall switch to bring the lens back into approximate focus so that I can see the bird in the viewfinder and the autofocus system can regain focus on the bird. A second hand on the lens also provides far better control and stability for following birds in flight. You hold the handle with your fingers and place your thumb on the rubber dot on the easy-find-switch-plate. Another rubber dot on the bottom of the easy-find-plate sits over the Memory Recall switch. The lens is too large in diameter to wrap your hand around the lens at the Memory Recall switch position. The design of my handle allows you to easily find the Memory Recall switch without jaring the lens. For storage, the reversed lens shade fits over the ring with the easy-find-plate with the handle unscrewed. A custom made GLENNVIEW product. This is something I made for myself. If you buy it, I will have to make another for myself. Speaking of making things for myself, the tripod head you see in these photos is one that I designed and built; it is listed just below. $150 for the Memory Recall handle. The mute swan was photographed using this handle. That huge bird flew fast and filled the frame. The Memory Recall handle helped in following the action and framing the image.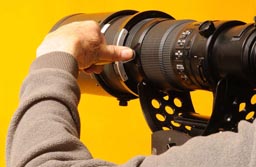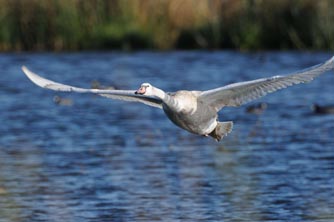 Custom tripod head for AFS 500mm F4 Nikkor G ED VR lens. See photos of the head above with the Memory Recall handle. The head supports the lens in front of and behind the modified RRS mounting foot, which is included with the head. Also included is a custom carry strap with comfortable shoulder pad, which couples with a caribiner to an eye attached to the foot. That eye is also used to secure the lens to the head. The knob you see on the head base controls the drag and locks both the pan and the tilt. The head mounts to tripods with a 3/8-16TPI stud. The lens rotates for horizontal/vertical images on Teflon bearing surfaces. The head also rotates and tilts on Teflon bearing surfaces. You will not find a more stable or a more convenient-to-use head for the AFS 500mm F4 Nikkor G ED VR lens. A custom made GLENNVIEW product. It is not inexpensive designing and building a one of a kind custom head. This is something I made for myself. If you buy it, I will have to make another for myself. Wimberley heads are pretty good. If you want a Wimberley II head, I have one on my TRIPODS web page. My head is far superior to Wimberley heads. $2000.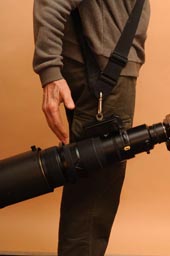 Original AFS 500mm F4 Nikkor G ED VR lens foot milled to fit Arca Swiss clamps. No foot I know of is as tall as Nikon's; good for people with large hands. It works well with Wimberley 1 and 2 heads. A custom GLENNVIEW altered NIKON made foot. I sold this one. I am willing to mill yours for you for you. $75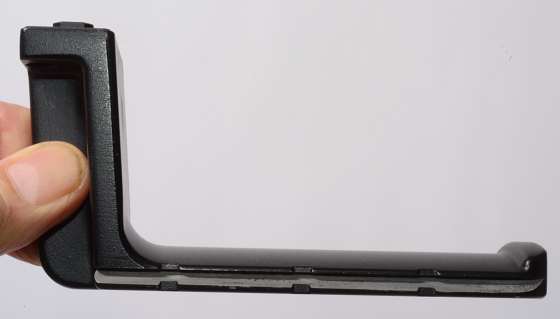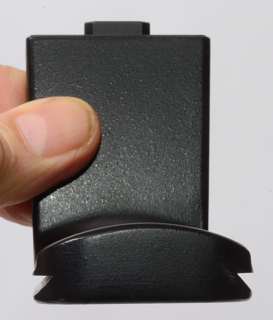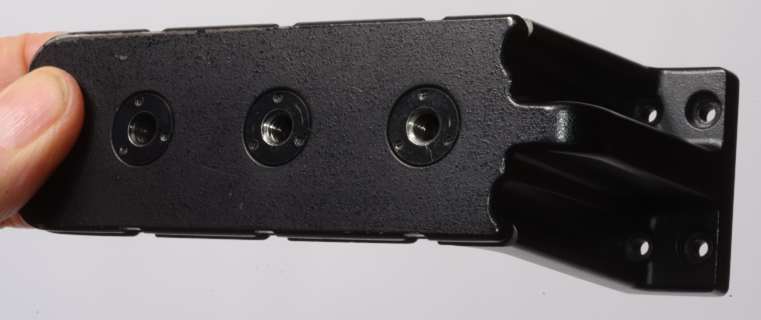 Really Right Stuff RRS plate for use with AFS 500mm F4 Nikkor or AFS 500mm F4 Nikkor G ED VR. It comes with 3 attachment screws to be extra safe. In addition to the Arca Swiss compatible dovetail, it provides extra length to allow perfect balancing. It is a less expensive alternative to the more expensive RRS LCF-16 foot. In the last photo you see it mounted on an AFS 500mm F4 Nikkor G ED VR lens on a Wimberley I head. $60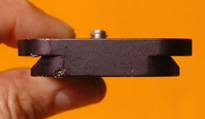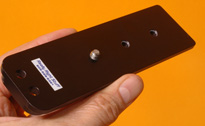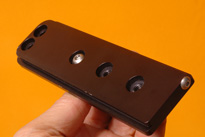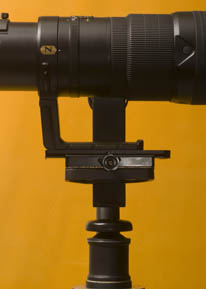 AFS 500mm F4 Nikkor lens cap. A custom made GLENNVIEW product. The 500mm F4 Nikkor lens comes with a lens sock that fits over the lens and the lens shade. It is a hassle to install and remove. I made this lens cap that fits inside the lens front so that the lens shade may be reverse mounted for storage as seen in the photo. I have used such lens caps for several years now in cold and hot weather. It has a good snug fit at all temperatures. It is made of a lightweight expanded plastic that is 1/2" thick with 1/4" within the lens front. It weighs 4 ounces. It provides a good deal of protection. You may rest the lens on the cap. The lens still fits in the Nikon hard case. This was the 1st accessory I made for the lens. I would not want to be without one. I can make these lens caps for other similar lenses too, but because I like to trial fit them to avaoid measurement and communication errors, I will have to have your lens here to do the job. I can do it while you wait. I can even make them to fit lenses that are no longer round. Because I have a 500mm F4 VR lens and a 300mm F2.8 AF-S lens in stock, I can supply caps for those lenses without the need to have your lens here. Anything you can do to insure the safety of such a valuable lens for such a small sum is a good investment. $50 in white or $60 in black.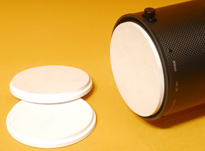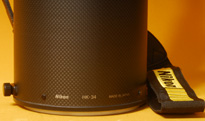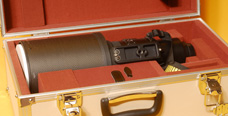 Reflex-Nikkor 500mm F8 instruction manual, 11 pages, original, $20, copy, $10
Nikon lenshood, HS11, Mint, $15
Nikon lenshood, HN3, for 35/1.4, 35/2, 35/2.8, 4386/3.5, Ex, $12
Nikon F3 HP, eyepiece correction attachment, although labeled 0, seems to have some power, Mint-, $10, another, unmarked, seems to have no power, Mint-, $10

Nikon plastic lenscase, ~5.5" tall overall, Ex, $12, 2 available
Nikon plastic lenscase top half only, ~5.5" tall overall, no base, Ex, $6, 2 available
Nikon plastic lenscase, ~4" tall overall, Ex, $12
Vivitar Series 1 70-210mm F3.5 Macro zoom lens for Cannon FD mount. With front and rear lenscaps, soft case, 57mm UV filter. I used one of these lenses; in my opinion, it is a Great macro zoom lens. I appreciate this lens, but I need Nikon F mount; I am willing to take in trade a similar lens for Nikon F mount. Mint. $50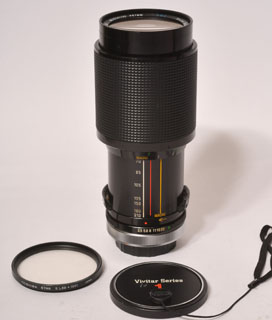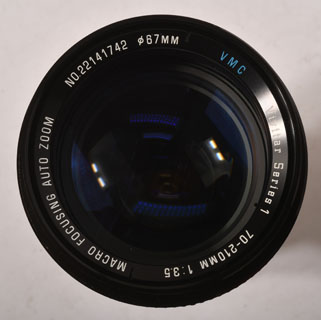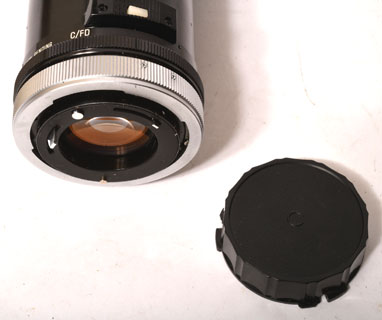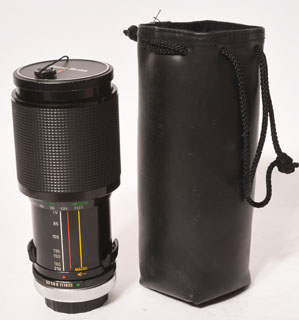 Minolta MC 28mm f2.5 lensshade, 55mm threads, Ex, $15
Olympus iS-1, modern automatic (or manual) camera, 35-135mm F4.5-5.6 ED-high resolution zoom lens, built-in flash, several metering modes, several flash modes (with built-in flash), macro modes, etc., neckstrap, lenscap. I ran a roll of film through this camera, and found it a joy to use and the images were very sharp. This is a lot of fun to use. Ex+, $80. Requires 2 3V batteries.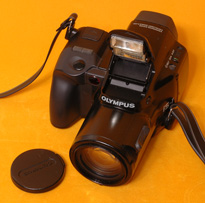 Olympus rubber lens hood for 35mm/F2.8, 50mm/1.8, 50mm/1.4, boxed, slips over ~51mm OD lens, Mint, $25
49mm Olympus L39 UV haze filter, Mint-, $15
49mm Olympus skylight filter, Mint-, $15, 2 available
Pentax Spotmatic flash shoe adaptor, clips over viewfinder, and rests on prism roof, Ex+, $15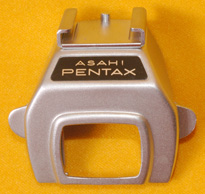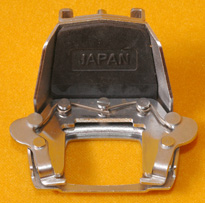 Pentax screw mount auto extension tube set by Telesar. The shaft on the longest extension tube is not welded to the ring like the other 2 are. This may affect operation. Looks to me like a spot of glue would repair it. $15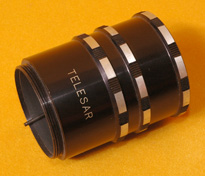 NOVOFLEX FOLLOW FOCUS TELEPHOTO LENS SYSTEMS
Novoflex is a high quality German manufacturer that made equipment to fit many different cameras. Novoflex is best known for making a fantastic long focus lens system similar to the Leitz Televit system with interchangeable lens heads, interchangeable camera adapters, rifle stocks, tele-extenders, extension tubes, etc. The Novoflex follow focus system is unique and most effective. This image was made with a Novoflex lens from about 50 feet away using a 600mm Novoflex lens with a tele-extender. That distance allowed me to make the photograph. Butterflies are skittish. They need their space. By being a great distance away, I was able to photograph them without disturbing them whatsoever. Novoflex follow focus hand grips are spring loaded for fast operation. Normally focused at the closest focusing distance, you pull on the handgrip trigger to focus towards infinity. Leitz offered a similar modular slower focusing system called the Televit, but Leitz also had Novoflex make focusing systems for Leitz lenses; now that's a recommendation! Leica Telyt lenses made for use with the Televit and Novoflex lenses made for use with the follow focus handgrips are lightweight, sharp and contrasty acromats. They were designed for wildlife photography. Most importantly, Novoflex systems are useable with some modern film and digital cameras.It certainly works well with my Nikon F-mount cameras--such as the D850.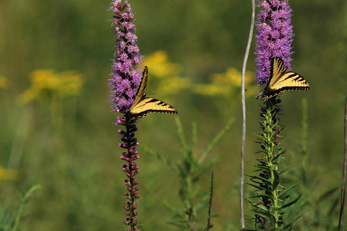 Box for 600mm F8 Novoflex lens $20.
Lens tube for 600mm Apo Ronar CL lens for use on Novoflex bayonet mount Pigriff-D. This is a great lens designed for the best Novoflex focusing mount. A GLENNVIEW product available no where else. $200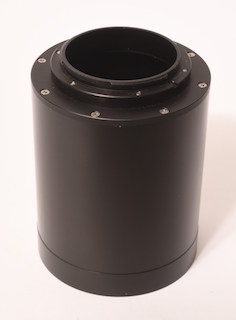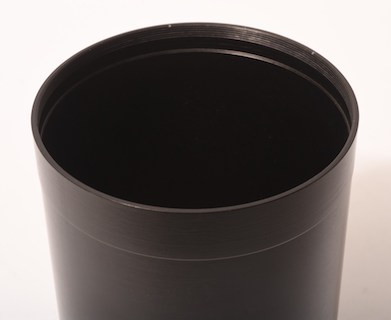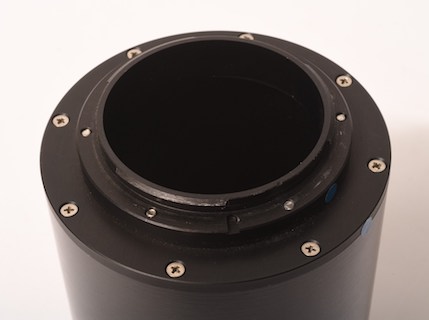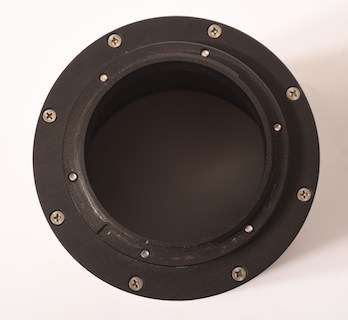 Novoflex NIKA Nikon F mount SLR adapter, only available with the purchase of the Model D outfit or the Novoflex fast shot lens outfit listed above, $125. This adapter allows digital Nikon SLRs to work in the aperture priority mode with the built-in Nikon camera light meter. See below for adapters for some other cameras. Other camera adapters are available new from Calumet or Novoflex.
Novoflex ROLA Rolleiflex SL-35, SL-350 SLR adapter, probably some others, Mint, boxed, $25
Novoflex MINA Minolta SLR adapter, for SRT, X, probably some others, with rear lenscap, Mint, boxed, $25
35mm RANGEFINDER
90mm F2.2 Leitz Thambar portrait lens with custom center spot filter, rear lens cap, glass perfect, focuses smoothly, tested with color film--performs beautifully and provides the widest range of sharpness I've ever seen, best 35mm soft focus lens I've tested. The image of the dafodils is at the softest setting. One image of the tulips is near the softest setting and the other is without the center filter @ ~F7. The center filter blocks the sharp image forming rays from the center of the lens allowing only the soft rays from the periphery of the lens to form the image. Not many people know that the Thambar is a short mount lens in a separate focusing mount. If you remove the Thambar from the focusing mount, you could easily mount the lens on a bellows or on a focusing mount for another camera--say a digital camera. Now that's exciting because there is no other lens like the Thambar. Many of Leica's short mount lenses are long focus lenses that actually cover more than 35mm. That is the case with the Thambar. I put the lens on a 4X5 Sinar. The lens will cover 6X9cm. This lens is in a class by itself for 35mm. If you mount this lens on 6X6cm, 6X7cm or 6X9cm, you will have an extraordinary item capable of unique images. Lens now adapted to fit Nikon. By removing the short mount lens from the focusing mount and replacing the focusing mount with a Leitz recessed Helical focusing mount adapted to Nikon, the lens is unaltered. I have been using the lens on a Nikon digital SLR. It is really wonderful to have the special Thambar soft focus effect on grainless digital files that may be levels-adjusted with ease. Adjusting the levels really improves such images. Now the lens focuses much closer than before and yet it still focuses on infinity. The last image was made on a Nikon digital SLR. Now with a lens shade. Note that you cannot expect to use this lens or any other soft focus lens like an ordinary lens. The image must be lit appropriately for soft focus lenses. Light the image as you would for an ordinary lens and your analog or digital film and you can expect muddy images. The images I chose to photograph are excellent examples of the type of images that look good photographed with a soft focus lens. Even these images benefitted from a levels adjustment in Photoshop. $OLD, but the Nikon adapter is still available and listed just below.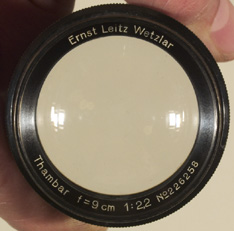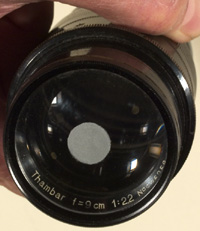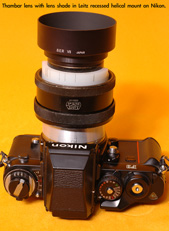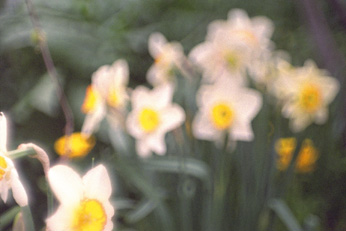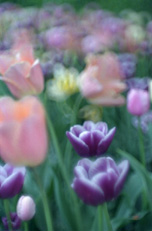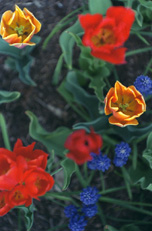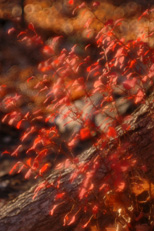 Nikon adapter for 90mm F2.2 Leitz Thambar. The lens was sold to someone who will be using it on an M-series Leica. A high quality Leitz helical focusing mount was utilized. A Nikon lens mount was used. Aluminum adapters couple it all together. The short mount Thambar screws into the front. A Nylon F-stop scale that will not harm your Thambar clamps onto the knurled focusing ring on the Thambar. A lot of precision work went into the design and manufacture of this adaptation. $300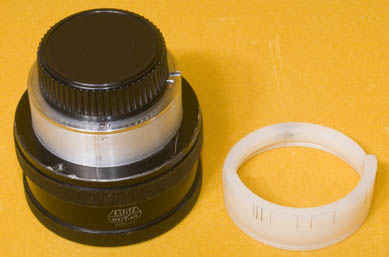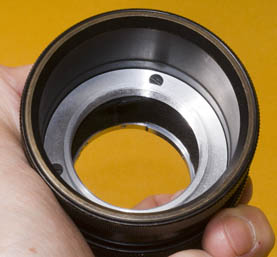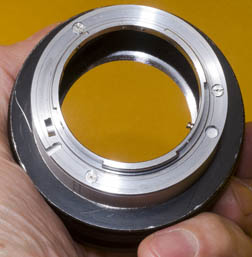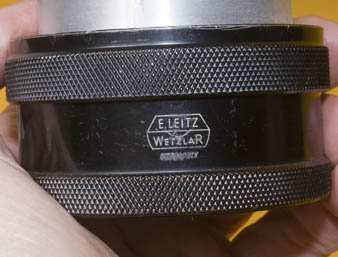 Center spot filter for 90mm F2.2 Leitz Thambar. The filter is a Leitz 48mm UVa filter. I added the spot, which is round and centered and works as well as the original Leitz spot filter. Those Leitz spot filters are quite valuable, but they get lost and/or damaged. I suggest you use this filter to safeguard your Leitz center spot filter. $150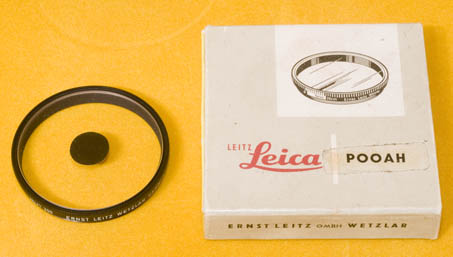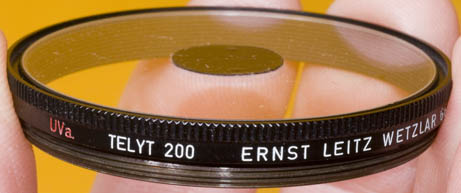 Center spot filter for 90mm F2.2 Leitz Thambar. Clean Rokinon 48mm UV filter. Add your own spot to use as a center spot filter. $20 If you want me to add a round and centered spot, the price is $100.

48mm to series 7 filter adapter and series 7 black anodized Aluminum round lensshade. 48mm fits a few lenses by various manutacturers and a few Leitz lenses, most notably the Thambar. $50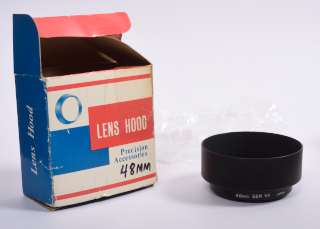 Leitz M bayonet mount rear lenscaps. $20 each. All say Leica or Leitz. All black cap is #14269.

Leitz screwmount rear lenscaps. $30 each.

Leitz 42mm front lenscaps. Felt-lined metal lenscap is $30. Plastic lenscap #14268 is $20. All say Leica or Leitz.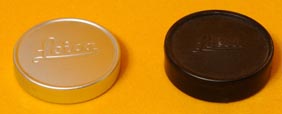 Leitz lensshade for 50mm Summicron or 35mm Summaron. $40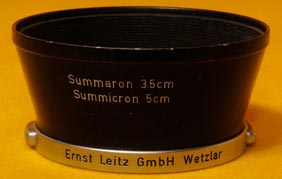 ZOOAN Leitz helical focusing mount, chrome, for 135mm F4.5 short mount Hektor Hefar telephoto lens, screw mount at rear, 42mm X 0.75mmp threads at front, distance scale from 5' to 300' to infinity, depth of field scale for F32 lens, extension @ 5' is 14.62mm, labeled "Germany," Mint-, $80
Leitz Hilfsgerat BEOOY copy stand. Designed for use with 50mm objective. The copystand is designed to clamp onto a lens of about 35-36mm diameter. One of the shortest extendable rods is missing. $75
Leitz screwmount to M-series lens adapters. Adapts 21mm to 35mm screwmount lenses to an M2. Adapts 135mm screwmount lenses to an M3. $100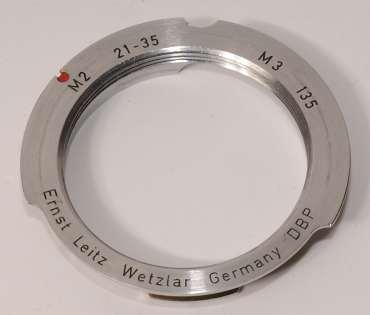 Leitz #6520 Imarect, for lenses from 35mm to 135mm, with parallax correction, some dust inside, $50
Leitz 21mm viewfinder without the front glass. As is, it serves as a very compact loupe or magnifier. Magnification about 6X to 8X. $50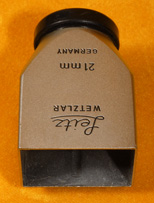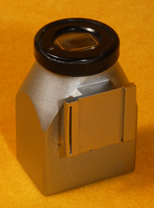 Leitz folding Flashgun. Flashgun with folding reflector, 2 synch cords, test bulb, battery/capacitor holder. No corrosion in battery compartment. Boxed. $25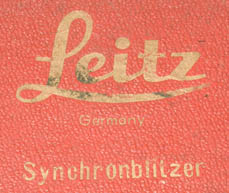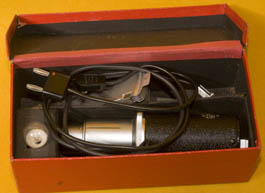 Leitz Flash reflector. $15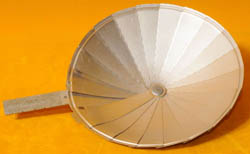 Leitz cord. $15

Leitz adapter. $25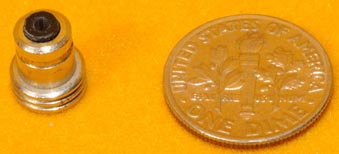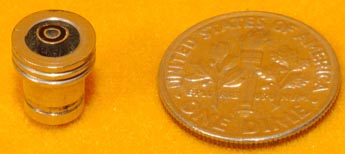 Leica Meter MC, not working, cosmetically VG, $5
Leitz 45 degree focusing loupe for visoflex, Ex, $50
Leitz M series leather case for body w/lens, with strap, VG, $35
Leitz M series leather case for body w/lens, strap broken. $35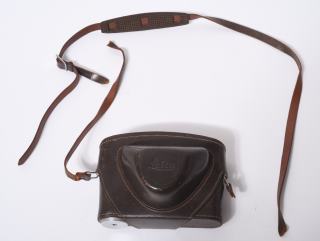 Leitz bellows with Visoflex I. Scales for 50mm and 135mm lenses. Magnification to 12X. The front has an adapter that accepts Leica screwmount lenses. The Visoflex I accepts screwmount bodies or M bodies with your adapter. These are very well made. Focusing is so tight and precise that Leitz did not even need a lock on the lens standard. Nikon bellows need to be locked to take up play. I have been considering altering these to accept Nikon bodies. Buy them before I find the time. Bellows only, $100. Bellows with Visoflex I and magnifier, $200.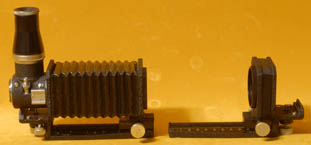 Leitz bellows with Visoflex I. Scales for 125mm and 135mm lenses. The front has an adapter that accepts Leica screwmount lenses. The Visoflex I accepts screwmount bodies or M bodies with your adapter. These are very well made. Focusing is so tight and precise that Leitz did not even need a lock on the lens standard. Nikon bellows need to be locked to take up play. I have been considering altering these to accept Nikon bodies. Buy them before I find the time. Caps for front and rear of visoflex. Bellows only, $100. Bellows with Visoflex I and 45* magnifier and front and rear caps, $300. Leitz double cable release, Mint condition, $125.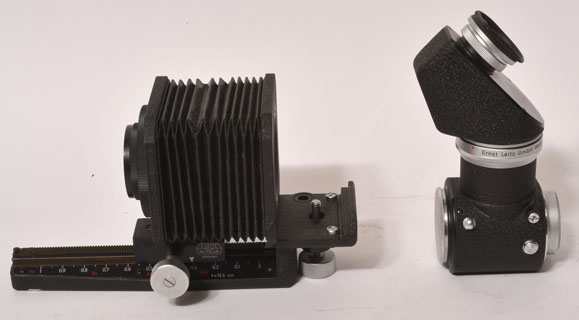 Leitz Prada 250 case. Made of very durable hard fiber. $25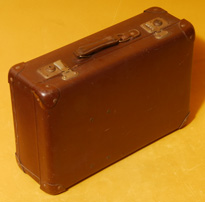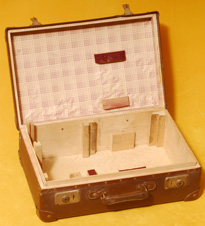 Leica screwmount black body cap, Mint, $40
Lots of Leica copy equipment and enlargers on my Leitz Enlargers web page and on my Copy Cameras web page.
Nippon Kogaku Tokyo Nikkor lens case. About 70-75mm inside diameter, about 65mm inside height with about 12mm or more thick foam padding behind velvet top. $50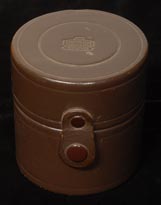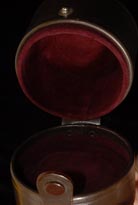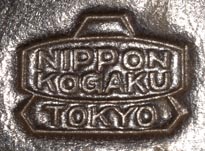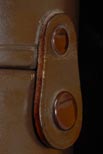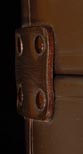 Canon case for 19mm lens with viewfinder. Foam in lid is deteriorated. The lower part of the case is lined with cloth, so it is OK. $20
Canon filter holder for FL 19mm F3.5 R lens, for using series 9 filters on 77mm threaded lens, Mint, $80
Canon V2 flashgun bayonet side mount w/tilting head for Canon VT de Luxe RF camera. It may fit some other cameras. Designed to bayonet mount onto top side corner of camera near rewind crank. With Canon capacitor. A 22.5V battery is required. With very fine leather case. Camera not included. Mint-, $30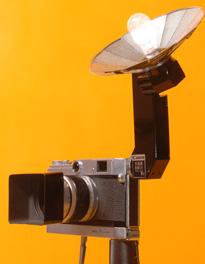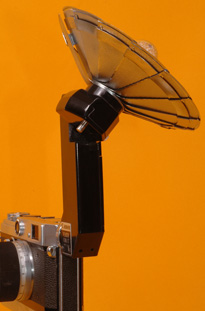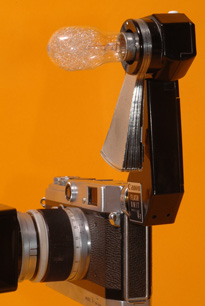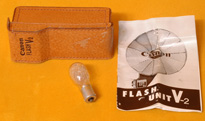 Zeiss Universal viewfinder, with brightline framelines for lenses from 35mm to135mm, with whole image used for 21mm lens, w/case, Ex, with parallax correction, note that image does not change, all framelines are seen at once, rare, $200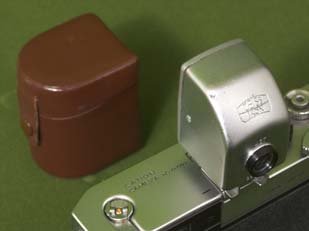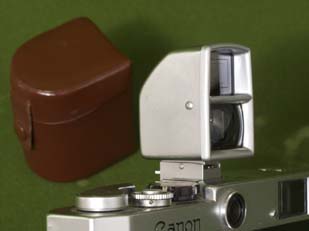 "The Canon guide to 35mm photography" by kenneth S. Tydings, CA 1954, covers rangefinder cameras, 128 pages, Ex+, $20
Canon FTb instruction book, 47 pages, VG, $10
Canon AE-1 Program instruction book, 86 pages, Mint-, $15
Miscellaneous accessories
Anatomical grip with flash shoe and cable release. $25.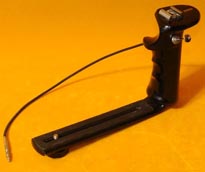 Camera bracket with Graflex flash D-mounts for small format camera, 35mm or digital SLR. 5 available. $20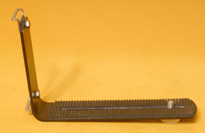 Flash brackets for attaching a handle mount Honeywell/Heiland/Braun Strobonar. Projections on side accept flash; they are 35mm apart. 2 available. $10 each.

Universal flash bracket with shoe. You might want to buy it for the shoe or the camera screw. German made. $10.

Bino-Foto adaptor, $10. The camera mounts on the padded base. A binocular-to-tripod adaptor (not included) mounts along the slotted rail and holds the binoculars. The whole system mounts onto a tripod. I bought this early in my photographic career before I could afford a super telephoto lens. It actually performed well, despite the complex setup.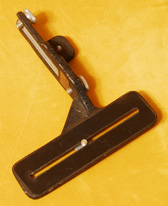 Self Timer, in plastic case, made in Japan. Universal; with a tapered threaded tip. The red flag is designed to let you know when the shutter will trip. The window opposite the red flag shows the approximate amount of time remaining in seconds from a maximum of 18. $15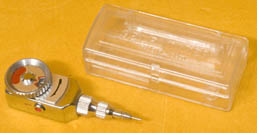 King self timer with supple leather case. Universal; works with some cable releases, tapered threads or straight--as shown in 2nd photo. The red flag is designed to let you know when the shutter will trip. $10
Self timer. Universal; works with some cable releases, tapered threads or straight--as does the King self timer illustrated above. The red flag is designed to let you know when the shutter will trip. This one is a little bit sticky, so only $5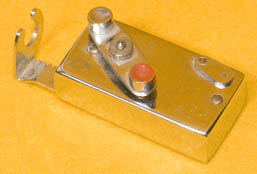 THE ULTIMATE SLIDE EDITOR
Kodaslide Table Viewer, model A, for 1-3 person viewing of mounted slides on 8X8" rear projection viewer of most attractive streamlined "Moderne" styling, vintage ~1950, VG, $100. The operation of this viewer is as simple and elegant as the design. Slides go into the spring loaded compartment on the left. Push the center handle in to load a slide and turn on the light, and pull it out to eject a slide to the right side and turn off the light. There is storage for the power cord recessed into the bottom of the viewer. Great used as a presentation viewer. I use this to show clients slides I have taken for them and prospective clients examples of my work. The only drawback to it's use is that your slides had better be up to the quality of the viewer.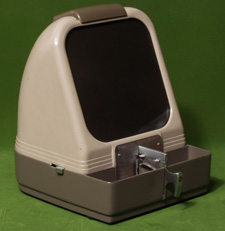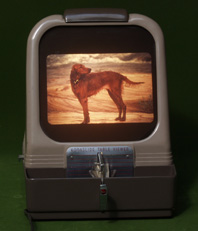 New-old-stock bulb for Kodaslide Table Viewer, model A, $50 with the purchase of the Kodaslide Table Viewer, or $70 by itself.
SLIDE PROJECTORS
Kodak Carousel stack loader, instructions, NEW-IN-BOX, $20
Kodak Carousel 80 capacity slide tray, Mint, boxed, 3 for $10
Remote control extension cord for any of the above projectors, didn't measure it, but guess it to be about 20', $20
Kodak Projection Zoom Ektanar Lens, 96-160mm F3.5, coated, in box, Mint, $15
Kodak projection Ektagraphic FF lens 102mm F2.8. The "FF" probably stands for flat field. $15
Kodak Projection Ektanar Lens, 3" F3.5, coated, Ex+, $20, 2 available
TDC Vivid 35mm slide projector, with 2 slide trays, manual operation, nice looking older projector, blue and silver-gray, 5" coated lens, height adjustment, bright, Ex+, $25
Argus pre-viewer IV, for 35mm and 127 size color slides, requires 2 c-cells, boxed, instructions, Ex, $5
1000 35mm self sealing slide mounts, new-in-sealed-boxes, $20, 2 boxes available
Pakon P-80 slide mount kit, 80 plastic slide mounts, with mounting device, new-in-box, $10
Tower metal slide storage box for 150 slides, new-in-box, $20, 2 available
Tower metal slide storage box for 150 slides, Ex+, $15, 2 available
Tower metal slide storage box for 124 slides, with built-in individual slide viewer, 120V, Ex+, $25
All five of the above slide storage boxes, $75
---
about glennview, orders, inquiries
---
email to glennview
---
return to the table of contents for glennview
---