PANORAMIC and wideangle cameras
The above image of a cirkut outfit is now just a lead in photo for this panoramic cameras page. The camera has been sold. All that I have available for cirkut cameras are the 2 gears and the 2 legs listed below.
2 34 pitch cirkut camera pinion gears, $50 each
2 Crown #4 tripod legs, $50
---
---
KODAK PANORAM #4D
produces 3.5X12" image covering 142 degrees, has two shutter speeds, one diaphragm setting, with original takeup spool, uses film #103, working, rare in this condition, Mint, $700 Note: Film available for this camera from Film for Classics. You may also photograph onto film cut to size from 11X14" film or onto Cibachrome or Ilfochrome positive paper or transparency material.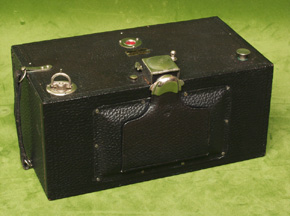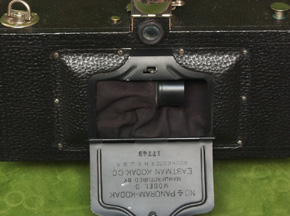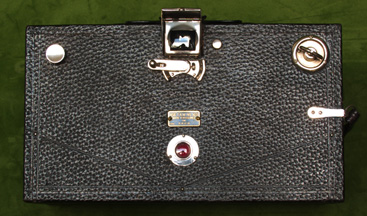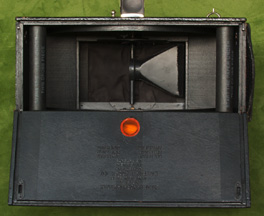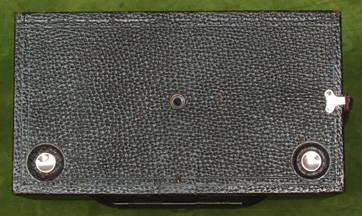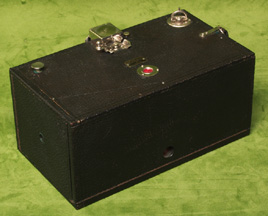 2 rolls Film for Classics #103 B&W film, ISO 21 speed, dated 9/94, sealed, not refrigerated, not guaranteed, being sold for the supply reels, $15 each + one empty supply reel, $12, + one takeup reel, $25, available only with 4D camera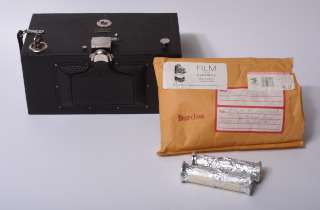 Not from personal experience, but from my customer's experience, I do not recommend Film for Classiscs film for use with either of the cameras listed above and below. I recommend either sheet film cut to size, or aerial rollfilm. Film w/o backing paper may be used in these cameras with the red windows covered. You may advance the film by counting the # of turns while winding the film.
AL-VISTA #5D
produces 5X6, 5X8, 5X10, 5X12 and 5X16" images on 5" rollfilm, with lens, lenscap, waterhouse stop, 4 speed-adjusting vanes, viewfinder, wrap around darkslide, one original film spool, photocopy of original Al-Vista catalog and instruction book. Makes images about 140 degrees in angle of view, wider than any other Al-Vista camera. 5" wide aerial film is available. You may also photograph onto Cibachrome or Ilfochrome positive paper or transparency material. Worn case, Mint- camera, rare in this condition, $800 Note: Original Al-Vista catalog and instruction book available as an extra for $100. Film available for this camera from Film for Classics. Aerial rollfilm is also available; I have a roll in my freezer that is available. Leather on Al Vista cameras is supposed to be black. I didn't know that until I found this near Mint camera; Al Vistas usually exhibit a faded brown leather with shrinkage marks at the wood joints where the wood grain is at right angles.
Al-Vista catalog and instruction book, covers all Al-Vista cameras briefly. I don't believe Al-Vista offered individual instruction books for each camera, but rather this book for all cameras. Original book available only with camera purchase. Copy, $20.
3 original vintage Kodak film take-up spools, for film about 5 7/8" wide, wood shaft, metal end flanges, unsure of film size, Mint, $85
4X5 & PANORAMIC VIEW CAMERA
4X5 Plaubel Peco view camera with a removable rear standard that may be replaced with a panoramic standard. 2 interchangeable variable format (maximum length of 18.5cm) rollholders, new regular and bag bellows for 4X5, new pleated bellows for panoramic format. The rollbacks are similar to the rollbacks described in the above listing, but with a difference--these have a variable format--up to 6X18.5cm. In the last photo, you see that there are 2 darkslides--these are the key to the variable format. Pull the darkslides out to the format of your choice. 13" monorail. Compact and lightweight and super high quality. $OLD. I do have more rollbacks like these and other camera systems that may be converted like this one was. I can custom build a panoramic camera for you. The image of the cement plant is once again scanned w/o any manipulation to show you exacwhat you can expect to get--in this case from a 75mm lens with center filter. I used cinsiderable front standard rise. Note the falloff in the upper corners; this shows you that you are getting every last bit of coverage from a 75mm lens. The Image of buildings along the Chicago River was made with a 90mm lens with considerable rise; had this iamge been ade with a box camera like the Fuji, the buildings would all be tilting if the camera were tilted up or you would have had all river if the camera were level. The lens you see on the camera is not included.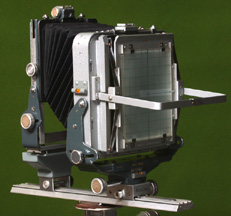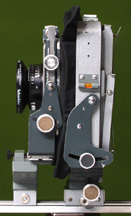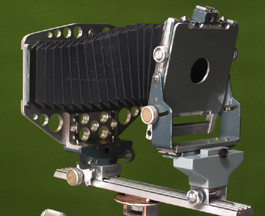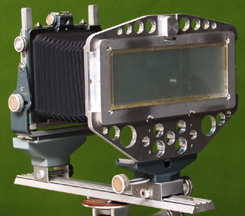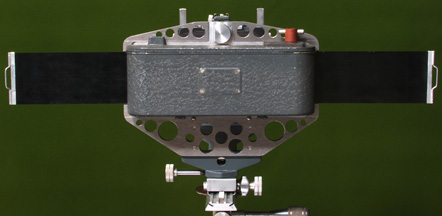 ONE LENS, 4 CAMERAS
47mm f5.6 Super Angulon XL, 120 degrees coverage, the widest covering rectilinear large format lens in focusing mount on threaded ring to fit the above 4X5 and panoramic format view cameras, 4X5 Sinar Handy, 8X10 Glennview Handy. See the above photos of the 4X5 and panoramic format view cameras in this outfit. Just below see photos of the 8X10 Glennview and below that find link to the Sinar Handy listings. $OLD I still have an 8X10 Handy similar to the one illustrated here. You will find it on my SINAR CAMERAS web page. I still have rollbacks and other camera systems that may be converted to similar outfits to that which was sold. I still have another 47mm Super Angulon-XL lens.
For SINAR HANDY, see Sinar list--link below
4X10 SINAR P camera or F or P format change kit, see Sinar list--link below
8X20 SINAR FORMAT CHANGE KIT OR CAMERA, see Sinar list--link below
8X20 WIDEANGLE VIEW CAMERA, see view camera list--link below
12X20 and 7X17 FOLMER & SCHWING, see view camera list--link below
PANORAMIC ROLLHOLDERS
The shell is made of cast aluminum.  The full length pressure plate is made of aluminum.  Small hardware pieces like screws and knobs are made of chrome plated steel.  The full format is 6X18.5 centimeters.  There is no darkslide.  There is no advance knob.  There is no frame counter.  There is no red window.  This roll back accepts 120 roll film.  This roll back was designed to be used on a motorized aircraft torpedo camera.  It was designed to track torpedos in both practice and combat.  It is possible to get 4 images on 120 roll film.  3 images give you some film "handles" to work with.  I managed to add darkslides to some of these rollbacks.  I added breakaway T-handles to advance the film.  I counted the number of turns of the advance knob to frame  #1, etc.  None of these changes were made to this rollback.  I used these rollbacks on view cameras that I adapted to accept these rollbacks.  I sold all of those cameras and rollbacks that i adapted.  If you want such changes made to this rollback, you are on your own.  OK, I am willing to adapt these rollbacks to a camera, but be prepared to pay the price! Note how the rollback allows you to utilize virtually the whole width of the film.  Film loading must be properly done to ensure that the film moves through the camera properly.  This rollback is not "plug and play" even if you have an aircraft torpedo camera.  This rollback is for the individual who is creative and capable enough to make the necessary changes.  Some rust on chrome plated steel hardware.  Some paint chips.  Function not affected.  This dates from world war 2.  It is, in fact, very clean compared to other such rollbacks--if you can find any others at all.  Built like the proverbial brick sit house.  The last 2 images show me pressing on that full length pressure plate at the ends. Ex+, $300 each, 3 available. See images above of one of the view cameras that I adapted to accept these rollbacks. The rollbacks were also adapted to fit the camera. And see images made with that camera and those rollbacks.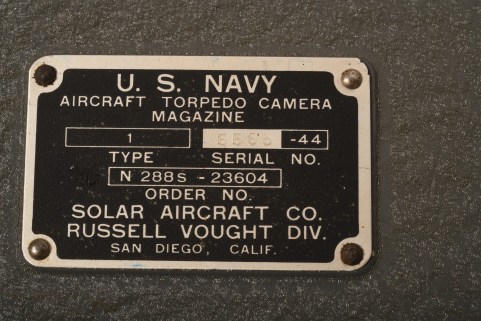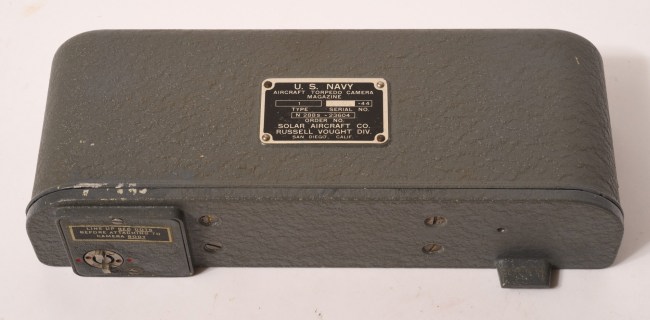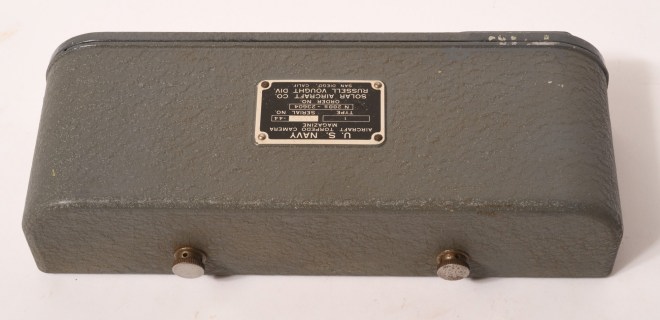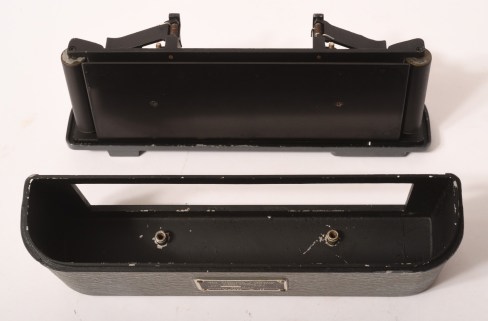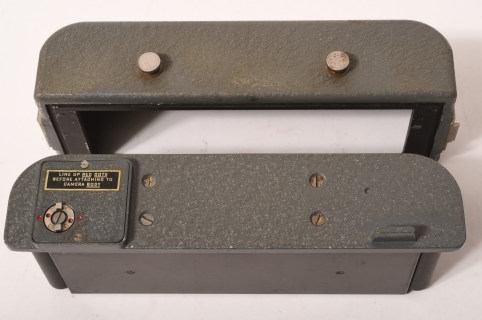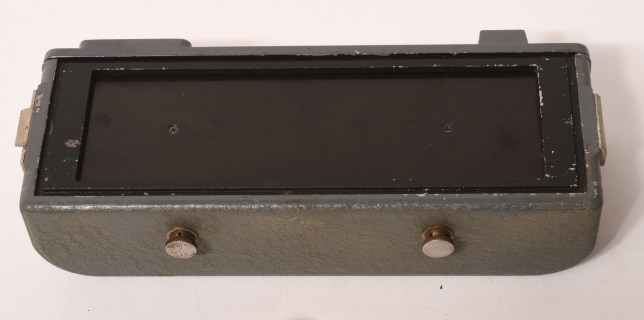 Aircraft Torpedo camera focusing adaptor, w/o ground glass, Mint-, $100. Illustrated with the part being offered on the camera and another such part with ground glass installed (part of the set of 2 6X12 rollholders listed above) in front of the camera. Apparently this part was designed to be used with a hand held ground glass. Add $60 if you want me to install a ground glass.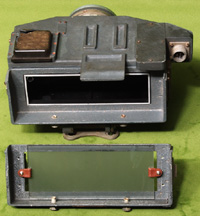 Aircraft Torpedo camera body rear cover plate, Mint-, $70, Ex, $50. The Mint- one is on the camera and the Ex one is in front of camera.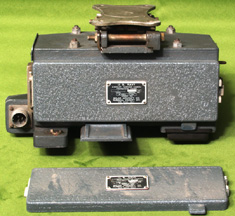 6X12cm rollfilm backs are on my Tripod and view camera accessories list. The 6X12cm rollholers are designed for use withGraflok backs, which are found on my View Cameras and accessories list.
6X18.5cm PANORAMIC DICHROIC COLOR ENLARGER
6X18.5cm PANORAMIC DICHROIC COLOR HEAD for 6X17cm images produced by the Fuji or the Linhof panoramic cameras or for 6X18.5cm images produced by my custom built GLENNVIEW panoramic cameras. With NEW dichroic filters, NEW bulbs, NEW custom Nylon bellows. 600W, 120V. No power supply needed. Voltage stabilizers available separately. 6X18.5cm glassless carrier, 6X17cm glassless carrier, 6X12cm glassless carrier, 190mm long glassless carrier for 35mm film (5 frames), multicoated glass carrier and 1 anti-Newtonring glass, remote exhaust fan with hose, 1/4-20TPI mounts front and rear, for vertical or horizontal use, 1000 units of color filtration provide no more color than another enlarger--just far greater precision and repeatability, produces prints 15" wide by up to 4' long from 120 film and produces prints 7" wide by up to 4' long from 35mm film from the included 150mm F5.6 El Nikkor lens. Will work as a variable contrast head too. By channeling all the light into the panoramic format, this head provides 3 stops more light output than a Durst 5X7 CLS 301 color head. Uses the same bulbs as the Durst CLS 301. These bulbs have built-in reflectors; change the bulbs and you change the reflectors. Head only, Mint, $3500. For shaft to fit this head and the 5X7 Durst chassis, add $250. For head mounted on Polaroid MP3XL 5' tall column mounted on Mahogany 28" deep by 4' wide baseboard, add $350. Also available is a quality steel base cabinet 25" deep, 28" wide, 32" high with several adjustable shelves to which the easel locks via 4 quick release clamps, Ex+, $150. When mounted on this cabinet, the easel is 33.5" above floor and the head is 97.5" above floor when fully raised. The cabinet sits on a removable 4" high stainless steel base. The enlarger on the easel is 65.5" at maximum height. The enlarger only requires 58" of height to the top of the column, with the head at less than full height. A 120mm F5.6 Rodagon-WA lens instead of the 150mm El Nikkor will allow you to make a larger print.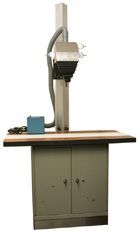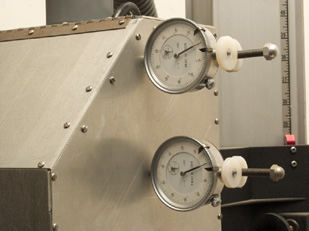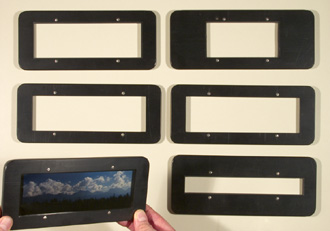 PANORAMIC PANHEAD
Panoramic panhead, for segmented panoramics, has 6 click stops @ 60 degree intervals, 1/4-20 threads top and bottom, Delrin with metal camera stud, suitable for making segmented panoramics with 55mm lenses on 6X7cm, 65mm lenses on 6X9cm, 28mm lenses on 35mm, and other combinations in other formats, 1.2" tall, 2.64" diameter, 4 ounces, Mint, $125 Note: custom panheads also available. Want one with 4, 5, 7, 8, or any other # of click stops, 3/8-16 threads top and/or bottom, larger diameter--no problem. Illustrated is a 5 position panhead on the below listed Dietzgen tripod. So why would you want such an item? Because you can do panoramics with ease and precision. You could do the same thing with a degree marked pan head, but you would have to unlock the pan movment, walk around the tripod, visually set the camera position and relock the pan movement each time. With this panhead, you merely turn the camera to the next click stop and shoot. Foolproof! You can print the images and mount them side-by-side with space in between the images; this method results in no distortion. This method is much like looking out from a gazebo. The alternative is to shoot more images with a lot of overlap and stitch the images together in an image editing program; this result is much like shooting with a swinging lens camera or a rotating camera. You get distortion, but no space between images. Presently I have in stock pan heads with 4, 5, 6, 8, and 10 click stops. Although I could make a pan head with a large number of click stops that would give you several options, I do not recommend it because it would no longer be foolproof. The series of images below were made with a 55mm lens on a 6X7cm camera with a 6 position panhead.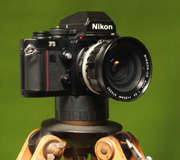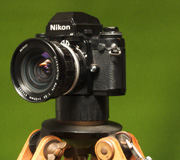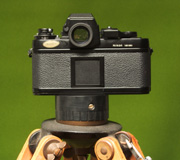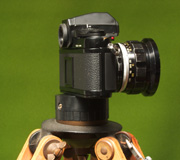 Nikon Panorama Head AP-2. Although it has settings for 28mm through 105mm FL lenses, only the 85mm and 105mm settings provide definite click stops. Virtually all AP-2 heads will be like this. It is still useful, however. Originally, the 28mm setting offered 6 click stops. The 35mm setting provided 8 click stops. The 50mm setting provided 10 click stops. The 85mm setting provided 18 click stops. The 105mm setting provided 20 click stops. This is a vintage film era item; the images overlapped only slightly. For digital images you need greater overlap. So, now you have 3, 4, 5, 6, 9, 10, 18 and 20 evenly spaced click stops possible with just the 2 settings that still work. If you want 6 click stops, set your head at the 85mm setting and advance the camera 3 click stops between each image. When the 2 spots are aligned, there are no click stops in play; this setting could be used for a video panoramic shot. Commonly listed elsewhere for twice what I am asking. Note the chip out of the casting at one end of the base. 1/4-20TPI camera screw and socket. $50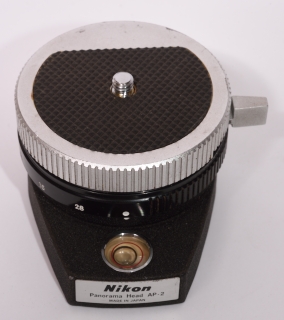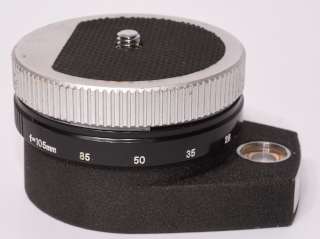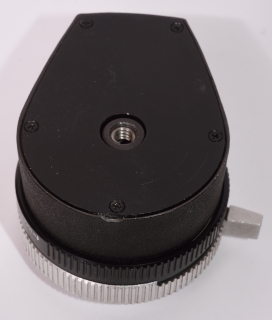 Dietzgen panoramic leveling head tripod, the best tripod for panoramic use, especially with the above listed panoramic panheads, with about 15 degree leveling head, 1/4X20TPI camera stud, under 10#, wooden legs, brass fittings with pointed steel tips on leg ends, chain keeps legs spread at an appropriate angle, 36" collapsed, maximum 64" extended, with steel loops for shoulder strap attachment, with shoulder strap, velcro wrap secures legs when folded, Ex, $500. Dietzgen tripods were designed for use with about 30# transits with telephoto lenses, so they are quite sturdy.
For other tripods suitable for panoramic use--see Tripod list, link below
---
about GLENNVIEW, orders, inquiries
---
email to GLENNVIEW
---
return to the TABLE OF CONTENTS for GLENNVIEW
---